The selected performance is NOT available for sale.
Please Select Tickets
You have selected: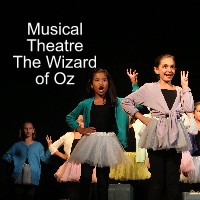 Saturdays 9 AM-10 AM
Musical Theatre featuring songs from The Wizard of Oz
Youth (ages 7-10)
Saturday, September 21, 2019
at
9:00AM
MacGuffin at The Adrienne
2030 Sansom Street
2nd Floor (purple door)
Instructors: John Rea
Time: Saturdays 9am-10am
Dates: September 21 - November 9
We're Off to See the Wizard! Try out your inner Broadway voice as you become Dorothy, Scarecrow, the Wicked Witch, and more from Broadway's The Wizard of Oz. You'll learn to harmonize on Ding, Dong the Witch is Dead. You'll get to take your dancing skills to the next level with Jitterbug. If I Only Had a Brain will develop your acting and characterization skills. Over the Rainbow will build and strengthen your voice. A must for building your musical theatre presence!
We encourage students to perform one of these songs on November 2nd at our November Open Mic Night in front of an audience.
Tuition will NOT be refundable after the first week of classes.