The selected performance is NOT available for sale.
Please Select Tickets
You have selected: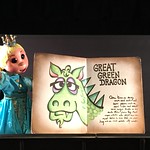 Animal Autumn
Sir George and the Dragon
by Pumpernickel Puppets
Monday, October 14, 2019
at
10:30AM
Puppet Showplace Theater
32 Station Street
Member tickets are only $9.00 - $12.00! To get your discounts, login or become a member here!
Show Description:
Join an adventurous princess as she journeys to Mystery Mountain to visit the Great Green Dragon. Along the way you'll meet Zelda the babysitter, Sir George and his clumsy dog, and of course, a lovable dragon. Everything ends happily in this fun and festive fairy tale about the unlikeliest of friends. Then, get ready to move and groove with Pumpernickel's extraordinary walk-around puppets who will bring a swing to your step and a smile to your face!
Our Members-Only Fairy Tale Tea Party will take place after Monday's 1pm performance. RSVP
here
!
About the Performer:
The Pumpernickel Puppets are the creation of John McDonough of Worcester, Massachusetts. John was four years old when he saw his first puppet show, and he immediately knew that he wanted to be a puppeteer. By his teens, John was presenting shows all over the New England area. The Pumpernickel Puppets have had the honor of appearing at the Puppet Showplace Theater, the Boston Children's Museum, the Institute of Professional Puppetry Arts at the Eugene O'Neill Theatre Center, the Smithsonian Institution in Washington D.C., the Cultural Olympiad at the Center For Puppetry Arts in Atlanta, Georgia, and the prestigious International Festival of Puppet Theatre sponsored by the Jim Henson Foundation at the Joseph Papp Public Theatre in New York. For each production, John creates and performs all of his own puppets, which range from small hand puppets to larger-than-life figures.
Recommended for ages 3 and up. Episodic stories, lots of gentle humor, friendly puppet characters.