The selected performance is NOT available for sale.
Please Select Tickets
You have selected: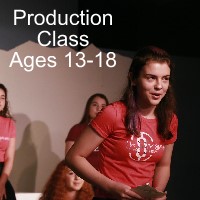 NEW!!! SUNDAYS 1-3 PM
Production Class featuring <i>Ruckus in the Garden</i> by David Farr
Ages 13-18 ONLY
Sunday, September 22, 2019
at
1:00PM
MacGuffin at The Adrienne
2030 Sansom Street
2nd Floor (purple door)
Director: Liz Fredette
Time: SUNDAYS 1pm-3pm
Dates: September 22 - November 10
Put your acting and performance skills to the test in David Farr's short play Ruckus in the Garden. You already know the basics of line memorization and character creation—now take those skills to the next level. Use your text and prior experience to make bold decisions that reveal how your character moves, talks, emotes, and interacts. Discover the art of collaboration by working with other talented actors under the guidance of the director.
Due to the short time frame in which to put up a production, this class will move quickly and require outside of rehearsal work by each student in line memorization and character development.
There will be a performance on Saturday, November 16 at 8 PM. All students in this class must be available for the performance.
Tuition will NOT be refundable after the first week of classes.