The selected performance is NOT available for sale.
Please Select Tickets
You have selected: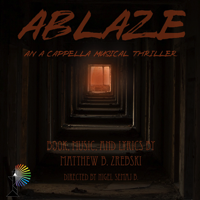 PrismHouse Theatre Company presents
ABLAZE: an a cappella musical thriller
at the New Ohio Theatre
Saturday, August 24, 2019
at
8:00PM
New Ohio Theatre
154 Christopher Street
Buzz 1 + 5 + Enter to enter from sidewalk
Between Greenwich and Washington Streets
1 to Christopher Street; A,C,E,B,D,F to West 4th Street, PATH to Christopher
ABLAZE: an a cappella musical thriller // Book, Music, and Lyrics by Matthew B. Zrebski // Directed by Nigel Semaj B. // At an old abandoned high school on the outskirts of town, a group of loitering teenagers is suddenly surrounded by fire as the walls burn fast around them. They find a hold in a corner of the gymnasium floor. They jump in. They survive the flames. Then they realize they are not alone, and someone is watching. As their nineteen days of captivity progress, personal demons and vendettas emerge with ferocity, forcing them to either turn forever against each other or fight for survival. Based on his 2004 play, playwright and composer Matthew B. Zrebski has created a claustrophobic exploration of teenagers under the eye of a monstrous predator they can't see. Almost entirely sung with occasional percussive sounds and rhythmic spoken word, "Ablaze: an a cappella musical thriller" is a bold experiment in musical theatre, and an unapologetic look at the lives of adolescents and the issues they must face. // PrismHouse Theatre Company reinvigorates, reignites, and reinforces. We reinvigorate narratives; we reignite theatre's indispensability; we reinforce the value and relevance of a piece for a modern audience. Our theatre empowers this audience to launch new dialogues and leave with questions, rather than answers. Ultimately, PrismHouse Theatre Company shares stories, any story, because every story deserves to be told. // Formed in 2016 by students at NYU & the Atlantic Acting School, we are an NYC-based company committed to fostering a community of emerging artists and producing work that is not only relevant, but necessary. We produce both new and established plays that are edgy, fun, and challenge the expectations and actions of our audiences.