The selected performance is NOT available for sale.
Please Select Tickets
You have selected: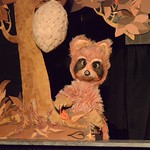 Animal Autumn
Raccoon Tales
created by Paul Vincent Davis, performed by Brad Shur
Saturday, November 2, 2019
at
1:00PM
Puppet Showplace Theater
32 Station Street
Member tickets are only $9.00! To get your discounts, login or become a member here!
Show Description:
"Raccoon Tales" features three humorous vignettes inspired by Native American just-so stories: "How the Fox and the Raccoon Trick Each Other," "Why the Blue Jay is Blue and the Gray Wolf Isn't," and "Why the Bear has a Stumpy Tail." Along the way, we'll meet lots of animal characters, from a beautiful blue jay to a bumbling bear. Each story is brought to life with beautifully-designed hand puppets and scenery originally created by Master Puppeteer Paul Vincent Davis.
Hand puppets. Recommended for ages 4 and up.
About the Performer:
Brad Shur is the founder of Paper Heart Puppets based in Poughkeepsie, NY. He is thrilled to return to Puppet Showplace Theater, where he served as resident artist for 8 years. Brad began performing as a student at the Rhode Island School of Design, contributing regularly to the Blood From a Turnip puppet slam and touring with Providence based performance group Big Nazo.He went on to become a touring performer with Wood and Strings Theatre and Vermont Puppetree before returning to Providence to focus on creating his own work. As a freelance builder, Brad has created a wide variety of puppets, from replica bunraku figures for a theater academy in Atlanta to larger than life foam and fleece versions of American Idol contestants for a nationally airing Ford commercial. Clients include theaters, musicians, video game companies and Dollywood amusement park. In 2009, Brad became the Resident Artist at Puppet Showplace Theater in Brookline, MA. During his time there, he wrote, produced, and puppeteered five original shows, remounted several pieces by the theater's Resident Artist Emeritus, Paul Vincent Davis, and served as the art director for The Midnight Zoo, an immersive Halloween experience at the Franklin Park Zoo. He has performed all over Boston and around the country including cultural institutions like The Museum of Fine Arts, The Boston Children's Museum, The Boston Museum of Science, The Detroit Institute of Art, The Strong Museum of Play and The Springfield Museums. As a teaching artist Brad designed and launched a program of adult education in puppetry, and served as the Puppet Showplace Theater's lead teaching artist in camps, after-school programs, and workshops for all ages.
Master puppeteer Paul Vincent Davis is widely recognized as one of America's foremost glove puppeteers. For over 30 years he served as Artist in Residence at Puppet Showplace Theater where he and founder Mary Churchill worked tirelessly to establish a home for puppetry in New England. Paul created over a dozen full-length puppetry productions and received five prestigious UNIMA Citations of Excellence for his work. Paul was also honored with the President's Award for Lifetime Achievement by the Puppeteers of America. Now retired from performing, Davis remains active as a teacher and mentor in the New England puppetry community.