The selected performance is NOT available for sale.
Please Select Tickets
You have selected: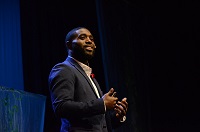 TEDx Bloomington Presents
2020 Perspective Shift
Friday, March 6, 2020
at
6:00PM
Buskirk-Chumley Theater
114 E. Kirkwood Ave.
There's much to be learned by looking at things from a different angle. When we shift perspective, we expand our ability to understand complex issues and increase our ability to empathize with others. This event seeks to ignite new insights - by inviting a diverse group of speakers with different viewpoints and life experiences. Ideas worth spreading are often those capable of shifting perspectives, and that's what we seek to do in this year's event.
Doors will open at 5:30pm for this general admission event. The estimated event length is 3 hours.
More information about our 2020 lineup of speakers will be announced at www.tedxbloomington.com
.  
About TEDx, x = independently organized event
In the spirit of ideas worth spreading, TEDx is a program of local, self-organized events that bring people together to share a TED-like experience. At a TEDx event, TED Talks video and live speakers combine to spark deep discussion and connection. These local, self-organized events are branded TEDx, where x = independently organized TED event. The TED Conference provides general guidance for the TEDx program, but individual TEDx events are self-organized. (Subject to certain rules and regulations.)
About TED
TED is a nonprofit organization devoted to Ideas Worth Spreading, usually in the form of short, powerful talks (18 minutes or fewer) delivered by today's leading thinkers and doers. Many of these talks are given at TED's annual conference in Vancouver, British Columbia, and made available, free, on TED.com. TED speakers have included Bill Gates, Jane Goodall, Elizabeth Gilbert, Sir Richard Branson, Nandan Nilekani, Philippe Starck, Ngozi Okonjo-Iweala, Sal Khan, and Daniel Kahneman.
TED's open and free initiatives for spreading ideas include TED.com, where new TED Talk videos are posted daily; the TED Translators Program, which provides subtitles and interactive transcripts as well as translations from thousands of volunteers worldwide; the educational initiative TED-Ed; the annual million-dollar TED Prize, which funds exceptional individuals with a "wish," or idea, to create change in the world; TEDx, which provides licenses to thousands of individuals and groups who host local, self-organized TED-style events around the world; and the TED Fellows program, which selects innovators from around the globe to amplify the impact of their remarkable projects and activities.