The selected performance is NOT available for sale.
Please Select Tickets
You have selected: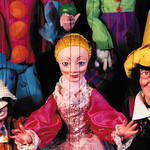 December Vacation Week
The Fairy Circus
by Tanglewood Marionettes
Saturday, December 21, 2019
at
3:00PM
Puppet Showplace Theater
32 Station Street
Member tickets are only $12.00! To get your discounts, login or become a member here!
Show Description:
Join us for a dazzling display of circus acts performed in an enchanted garden. ''The Fairy Circus'' is a showcase for turn-of-the-century style trick puppetry, performed by over 20 beautifully handcrafted marionettes. Fairies, field mice, and other small critters dance, play instruments, juggle, contort, transform, and fly through the air with the greatest of ease, all to the music of favorite classical composers. Each performance includes an interactive puppetry demonstration before and after the show!
Marionettes. Recommended for everyone ages 3 and up.
About the Performer:
Founded in 1993 by Peter and Anne Schaefer, Tanglewood Marionettes is a nationally touring marionette company whose unique productions have been seen by hundreds of thousands of children and families across the country. With seven shows currently in their repertoire, the company performs year-round at venues ranging from school assemblies to renowned cultural institutions.
The company has received two UNIMA awards, puppetry's highest honor, for their productions An Arabian Adventure and The Dragon King.
Tanglewood Marionettes believes above all that a performance is a communal experience, with connections established not only with the performers, but also between members of the audience themselves as they laugh together, gasp together, and cheer together when the good guys prevail!