The selected performance is NOT available for sale.
Please Select Tickets
You have selected: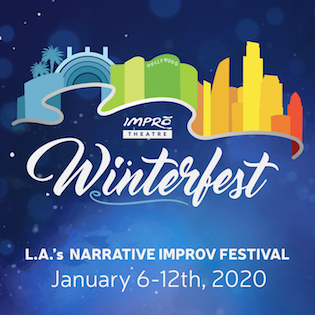 Impro Winterfest 2019
WF - Wednesday 8:00pm Block
The Tiny & Les Show and Det Andre Teatret
Wednesday, January 8, 2020
at
8:00PM
Impro Studio
1727 N. Vermont Ave.
The Tiny & Les Show -
This Spontaneous Songbook is brought to life by a cast of eccentric F-list celebrities – each with their own unique connection to the songwriter being celebrated. They know the juiciest stories, the most intriguing anecdotes and believe in their hearts the audience members are also die-hard fans of this fake musical legend. It's kooky, wonderful, skilled, and pure joy.


Det Andre Teatret - For their first performance on Winterfest 2020 Det Andre Teatret are doing a classic Gorilla-theatre. Four improvisers will compete to become the evenings top director and you get to decide who the winner is! After every scene, the audience vote whether the director gets a banana or a forfeit, and the director with the most banans gets to go home with the Gorilla!
Det Andre Teatret is Norway's first and largest independent improv/fringe-theatre. Their focus on combining improvisation, storytelling, and theatricality, as well as their playful, risk-loving attitude have earned them an outstanding international reputation for excellence and innovation.
Gorilla-theatre is a format developed and owned by Keith Johnstone and the ITI.