The selected performance is NOT available for sale.
Please Select Tickets
You have selected: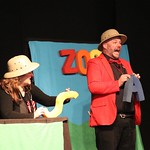 Enchanted Expeditions
Word Play (in-person)
by Good Hearted Entertainment
Thursday, April 30, 2020
at
10:30AM
Puppet Showplace Theater
32 Station Street
Member tickets are only $9.00! To get your discounts, login or become a member here!
Show Description:
''Word Play'' uses clowning and puppetry to take audiences on an adventure through the alphabet. Words come to life in the hands of two skilled performers, who clown around with sounds and letters to create dozens of interactive characters and imaginative scenes. Audiences can make friends with vowels, teach tricks to a ''C-A-T'' and ''D-O-G,'' and visit a whole ZOO full of surprises. Live music and hilarious sound effects complete the fun! It's the perfect blend of education and entertainment—a play on words, literally!
Table Top/ Object puppetry, live performers and live music. Recommended for ages 3 and up.
About the Performers:
Good Hearted Entertainment creates performances that combine puppetry and clowning to educate and delight young audiences and the young at heart. The company was founded by Honey Goodenough, who has a Masters in Educational Theater from NYU. Honey has over 10 years experience creating literacy-based puppetry programs for NYC public schools and for specialized learning institutions for children with learning challenges and varying abilities. "WORD PLAY" is inspired by Honey's experience learning to manage her own dyslexia and literacy challenges. The show combines her experiences as a touring puppeteer, educator, clown, magician, and children's entertainer to bring words to life in new and exciting ways. "WORD PLAY" was co-created with fellow puppeteer, entertainer, and educator Harry LaCoste and musician Paul Watkins.
This production was developed with support from Puppet Showplace Theater's Incubator Program.