The selected performance is NOT available for sale.
Please Select Tickets
You have selected: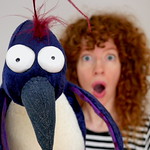 ScreenPLAY! Episode 3: Race Through the Snow
with The Gottabees
Friday, August 14, 2020
at
10:30AM
Puppet Showplace Theater
32 Station Street
Join The Gottabees for an irresistible, interactive family ZOOM adventure

$15 household ($10 members)
$3 EBT/WIC/ConnectorCare cardholders (Use code Card2Culture at checkout)
Donations are welcome to support puppeteers, new works, and affordable programs

Episode 3, Aug 12-15: Race Through the Snow

Calling all families! The intrepid artists of the Gottabees are gathering our community for a brand-new all-ages at-home adventure series. This super-interactive experience allows you to channel your household's creativity into an inspiring work of participatory art. Each ScreenPLAY episode is non-stop interactive FUN, where your whole family becomes part of the story. We'll explore movement, puppetry, theater, and the irresistible power of being ridiculous.

So, clear some space at home, jump into your ZOOM square, and get ready for imagined adventures!

ScreenPLAY is a live 30-40 minute interactive event. Registration is required and closes 90 minutes before start time. Only 20 spots are available, so don't delay!

Recording for Internal Use
The Gottabees may record the adventure for their internal use as they continue to develop the show. Recordings will NOT be shared or distributed. If you are uncomfortable with this, please reply to let us know when we send your ZOOM link. Thank you!

How to Join the Adventure

1. Get your family together—kids, grown-ups, teens, elders, pets. Anyone who wants to PLAY!

2. Find an open space or clear a room so you can move around without tripping or bumping into anything.

3. Click the top-secret ZOOM link in your e-mail. Note: ScreenPLAY uses ZOOM gallery view and works best on a laptop or computer.

JOIN THE ADVENTURE, and HAVE FUN!