The selected performance is NOT available for sale.
Please Select Tickets
You have selected: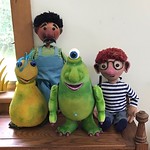 Worlds of Crabgrass Virtual Studio Visit
with Crabgrass Puppet Theatre
Saturday, August 8, 2020
at
11:00AM
Puppet Showplace Theater
32 Station Street
August 8 (Saturday) | 11:00 am
FREE (Donations welcome, suggested $10-$20 per household)
Live Online via Zoom

Join us on a virtual visit to the sunny Southern Vermont studio where all of the Crabgrass creations get their start. Bonny and Jamie will introduce characters from their dozens of full-scale touring productions and share how their work spanned from global folktales to a rock-and-roll marionette musical. Get your questions answered as they share their creative discoveries and favorite design techniques. We'll hear stories from their cross-country adventures, and find out how Crabgrass entertains and challenges their audiences by challenging and entertaining themselves.

"With each show we've tried to stretch ourselves in new ways. That has kept things fresh for us, and for our audiences as well. Sometimes we have an idea of where we're going when we start, but often the show takes us places we'd never imagined." - Jamie & Bonny

CRABGRASS PUPPET THEATRE is an award-winning touring puppet theatre founded in 1982 by Jamie Keithline and Bonny Hall. Jamie and Bonny met in 1979, while performing in Laughingstock!, a puppet-and-actor production at the University of Connecticut in which Bonny played Jamie's father. They have been working together ever since!

Jamie first performed at Puppet Showplace Theater in 1980 when he was with the Pandemonium Puppet Company; Bonny made her PST debut with Pandemonium in 1981.

Bonny started a puppet troupe while in high school in Greensboro, N.C., and liked it so much that she decided to make it her profession. She made her way to the University of Connecticut, the only university in the country to offer Bachelors and Masters degrees in puppetry. While at UConn, she ran into Jamie. Jamie was studying acting, but he fell in with the wrong crowd and wound up becoming a puppeteer.

In 1982, Bonny and Jamie decided to take a break from the snow and moved to California, where they formed their own company. Their first show, What a Clever Idea! had giant puppets that grew to eight feet tall, and was selected to perform at the 1983 Pacific Southwest Puppetry Festival. In 1989, Jamie and Bonny returned to the East Coast, to Connecticut. Since 2001, Jamie and Bonny have been living in Halifax, Vermont, where they continue to create their award-winning productions.

Crabgrass Puppet Theatre has twice been awarded the prestigious Citation of Excellence from the American Center of the Union Internationale de la Marionette (UNIMA-USA), the highest honor in American puppetry, in 2001 and again in 2005. In 2008, Bonny Hall received a Commendation for Design in the Puppet Theatre from the Arlyn Award Foundation. Crabgrass Puppet Theatre's "The Pirate, the Princess and the Pea" received the award for Best Performance at the 2015 National Puppetry Festival of Puppeteers of America. They have given many thousands of performances in schools, libraries, museums, and arts festivals, and have performed at dozens of regional, national and international puppetry festivals. Crabgrass Puppet Theatre's performing venues have included the World Trade Center, the Tribeca Performing Arts Center, the Philadelphia Museum, Paper Mill Playhouse, the North Carolina Museum, the New York State Museum, the Smithsonian Institution, the California Academy of Sciences, the Detroit Institute for the Arts, and hundreds of schools, museums, and theaters across the country.