The selected performance is NOT available for sale.
Please Select Tickets
You have selected: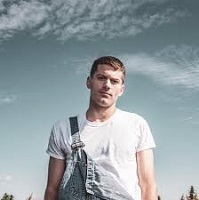 BCT Presents
2020- An Evening with Peter Oren - Canceled
Saturday, September 26, 2020
at
7:30PM
Virtual Show
114 E. Kirkwood Ave.
We are sad to announce that due to unfortunate circumstances this show has been canceled. Ticket holders will be contacted shortly via email.
Indiana-born, everywhere-based singer-songwriter
Peter Oren
possesses a remarkable singing voice, low and deep and richly textured: as solid as a glacier, as big as a mountain. Similar in its baritone gravel to Bill Callahan, a hero of his, it rumbles in your conscience, a righteous sound that marks him as an artist for our tumultuous times, when sanity seems absent from popular discussions. His voice is ideally suited to confront a topic as large and as ominous as the Anthropocene Age.
On his new album
Anthropocene
, Oren and his band provide stately backing for the songs, with drips of pedal steel and quivers of strings subtly reinforcing his observations about the state of the world. "Throw Down" bristles with energy and resolve, penned for "the people on the far, far left," Oren says, "the anarchists and the rioters. There's not often a voice that's trying to understand those people or defend those positions."
Anthropocene
might be merely didactic and oppressive—a giant bummer of an album—if those rallying cries weren't tempered with something like hope, particularly on the sunny "New Gardens." He penned the tune as a teenager, but as an adult felt the message still resonated. The song celebrates labor, individual and collective, as the most effective tool for lasting change, and that vision of communal responsibility that makes the album such a rousing call to arms.
"Music is a sympathetic process, where people who feel the same can experience it together. I don't know if my songs would change somebody's mind, but they might help people feel a little bit less alone in their opinions and might encourage them to get involved in some way. Nobody's going to riot when the album hits the street, but maybe it can in some small way help turn the tables."
Music starts at 7:30pm broadcast on
Mandolin
. You will receive a link to the event via email the day of the show. Create a Mandolin account and enjoy the show! This broadcast will be available on Mandolin for 48 hours after being recorded. For technical support contact
help@mandolin.live
. Ticket prices will go up to $20 on the day of the show. Ticket sales end 30 minutes before the event.