The selected performance is NOT available for sale.
Please Select Tickets
You have selected: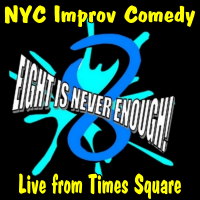 Online Class Ages 13-17
Comedy 4 Teens Afterschool
Teacher: Walt Frasier
Tuesday, December 8, 2020
at
5:00PM
Improv Theatre LLC
1408 51st Street
Broadway Comedy Club, 318 West 53rd St, New York, NY 10019
Times are EST New York time but classes open to students worldwide
This is an all levels class. The first hour is dedicated to Improv Comedy, playing warm-up, technique building and performance games. Optional Stand-Up Comedy section 6-6:30pm.
Combined the two disciplines deliver much needed laughter with valuable life skills - creative writing, public speaking and self confidence to name a few.
CLICK HERE More class options for kids, teens & adults via www.8improv.com
Supplemental Reading (Available for FREE via KindleUnlimited
Teacher: Walt Frasier has one of the leading schools in New York City (EIGHT IS NEVER ENOUGH - AKA Improv 4 Kids, Improv 4 Teens) for kids & teens learning both stand-up and improv comedy.. His student, 12yo Carolyn White, was named the "Funniest kid in America" by Kenan Thompson, after winning the SNL star's national talent search.. Mr. Frasier also directs numerous programs in residency at NYC area schools and camps. TV credits include Billions, Royal Pains, Blue Bloods, Lilyhammer, Letterman and NICK. Theater Credit faves include Harold Hill (Music man), Prince Karl Franz (Student Prince), Rodolfo (La Boheme), Henry VIII (A Man for All Seasons), Jack (Where's Charlie), Avram (Fiddler on the Roof). Also the 2nd national tour of Scarlet Pimpernel, multiple Fringe Festival and other original works in NYC.