The selected performance is NOT available for sale.
Please Select Tickets
You have selected: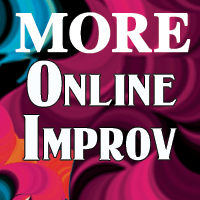 Brooklyn Improv Training
MORE Online Improv
Advanced Improv Classes
Wednesday, December 9, 2020
at
7:00PM
LoM Zoom Theater
Anywhere
Zoom link with ticket
A new focus each week! Pay per class! 7 PM - 9 PM EST
You know how to improvise online, and you want more...online improv! Take your skills to the next dimension. Each week has a different focus:
Character - (11/18/2020)
Find and develop new characters by both listening and being heard. The class will focus on making strong physical, vocal, emotional, and environmental character choices.
Status - (11/25/2020)
One of the most dynamic tools of the craft, status can be used in all aspects of improvised scene work. From finding great characters to discovering nuanced themes and games, this class is an enlightening romp through a wide-ranging set of status techniques.
Explore and Heighten - (12/2/2020)
Agree to degrees you've never seen before! Flex your best "yes, and" muscles in this wild and wonderful class that incorporates classic and new exercises and set-ups.
Short Forms - (12/9/2020)
Line games, word games, competitive games, oh my! Brush up on your speed in this fast-paced play play play class with tips on finding the "game gears," on how to avoid common traps, and how to really "sell it" to a digital audience.
No need to make it each week, you can pay per class! Each 2 hour class is 7PM - 9 PM EST. B.I.T. Intro to Online Improv or equivalent experience required. ​Ages 18 and up.
Scholarships are available for members of the BIPoC and LGBTQA+ communities. Click here to apply.
---------
Please review our Code of Conduct by clicking here.
Brooklyn Improv Training (BIT) teaches ensemble improv: the skills of spontaneously creating, as a group, a single piece of work. Drawing from the wisdom of Viola Spolin, Keith Johnstone, Del Close, and also from 15 years of improv teaching experience in NYC and beyond, the BIT approach is experiential, on your feet, and full of joy. We teach letting go of judgment, how to stay present, how to embrace the "strong and wrong," and many other practical strategies to create hilarious, delightful scene work with an ensemble of players. Our goal is not to teach you how to be the funniest person in the room, it's to make the whole room funnier. All classes are 18 and up.
For more information visit our website: www.lomtheater.org