The selected performance is NOT available for sale.
Please Select Tickets
You have selected: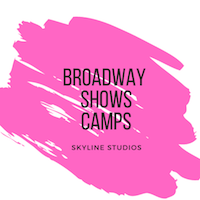 Skyline Studios'
Skyline Studios 2021: Broadway Shows Camp - Full Day (Stars)
Stars Age 7-11
Monday, August 9, 2021
at
9:00AM
Athenaeum Theatre
2936 N. SOUTHPORT AVE.
Lincoln, Wellington and Southport
CTA Bus #9, Brown Line Wellington Stop
Stars (7-11 years)
Two Week Camp $995
9am-4pm
Broadway Show Camps will give kids a full musical theatre experience, from an encouraging audition to an exhilarating final performance!
Titles: High School Musical, Madagascar, & Jungle Book
Broadway Shows Stars will provide growing actors with a full musical theatre experience, from an encouraging first day of auditions to an exhilarating final show. Every child will be assigned a named role and have a chance to shine. Stars will memorize lines, sing solos, learn dances, explore creative instincts, work together, play games, and have fun! This camp culminates in a final performance on the last afternoon on the Athenaeum Stage.
6/14-6/25 High School Musical
6/28-7/9 Madagascar
7/12-7/23 The Jungle Book
7/26-8/6 Madagascar
8/9-8/20 High School Musical
Don't forget to book your Extended Care Camp for after-care from 4-6pm!
Not the level you're looking for?
Juniors, Performers

Camps are non-refundable, so please consult your calendar in advance of registration. You may exchange your dates for a camp of equal or lesser value pending availability.