The selected performance is NOT available for sale.
Please Select Tickets
You have selected: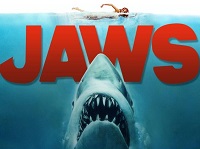 BCT Presents
2021 Jaws (1975)
Spielberg in the Summer Film Series
Friday, August 13, 2021
at
7:00PM
Buskirk-Chumley Theater
114 E. Kirkwood Ave.
All 3 Film Pass
- $20
Come to the Buskirk-Chumley Theater for the first film in our Spielberg in the Summer Film Series
and get ready to be scared to go back in the water all over again!
When a young woman is killed by a shark while swimming near the New England tourist town of
Amity Island, police chief Martin Brody (Roy Scheider) wants to close the beaches, but mayor
Larry Vaughn (Murray Hamilton) overrules him, fearing that the loss of tourist revenue will ruin
the town. Ichthyologist Matt Hooper (Richard Dreyfuss) and grizzled ship captain Quint (Robert
Shaw) offer to help Brody capture the killer beast, and the trio engage in an epic battle of man vs.
nature.
Rated PG
(Language | Brief Partial Nudity | Violence)
, 124 mins
Doors open at 6:30pm for this general admission event. Wearing a mask is strongly encouraged and appreciated!
Wearing a mask is required in the building per Monroe County Mandate.
You may take your mask down to consume concessions then it is required to put it back on.
Spielberg in Summer Series:
8/13 -
Jaws
8/27
-
Raiders of the Lost Ark
8/28 -
Jurassic Park