The selected performance is NOT available for sale.
Please Select Tickets
You have selected: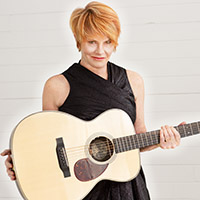 BCT Presents
2022 Shawn Colvin
Steady On 32nd Anniversary Tour
Sunday, April 3, 2022
at
8:00PM
Buskirk-Chumley Theater
114 E Kirkwood Ave
Shawn Colvin, performing Steady On Acoustic in its entirety, plus other favorites
Three-time GRAMMY winner
Shawn Colvin
's debut album,
Steady On
, was released in October 1989, a stunning introduction to an artist who quickly established herself as a mainstay in the singer-songwriter genre. The album was lauded for its confessional songwriting and well-crafted melodies, and for Colvin's tender and provocative vocals. Colvin received the ultimate acknowledgement for
Steady On
when she was awarded the GRAMMY award for Best Contemporary Folk Album. She swiftly amassed a dedicated and passionate fanbase.
To commemorate the 30th anniversary of this landmark album, Colvin has released a newly-recorded solo-acoustic version. Colvin brings a 30-year lens to her treasured songs, casting new light on the stories she first told as a young artist. Colvin has long been hailed as an exemplary solo acoustic performer and these new recordings are a brilliant showcase for her enduring artistry.
"I was 32 years old, and the dream of my life had been fulfilled," Colvin says, "not only because I made an album but mostly because I had written or co-written every song, an accomplishment that was hard won. I was so proud. My feeling was then—and still is—that if I never made another album,
Steady On
would have been enough."
Steady On Acoustic
strips each song to the core, placing Colvin's songwriting masterclass on full display. "I've played these songs countless times, primarily as a solo acoustic artist," she says. "All in all, this is the incarnation that feels most genuine. And so, to commemorate this milestone I decided to celebrate
Steady On
by recording it again, this time using only my voice and my guitar. This represents who I am as an artist and all I ever wanted to be, and I believe it does its predecessor proud."
Over the course of three decades, Colvin has established herself as a legacy artist by creating a remarkable canon of work, touring relentlessly both nationally and internationally, and having her songs featured in television and film. She is a revered storyteller deserving of the special recognition of both her peers and those who have been inspired by her songs. The reworking of her iconic debut feels not only timely but essential, further underscoring that Colvin remains a vital voice for women in music and reaffirming her status as an Americana gamechanger.
Shawn Colvin will perform
Steady On Acoustic
in its entirety, in addition to other favorite songs, in what promises to be a very special evening for her longtime fans.
Clarence Bucaro is opening the show!
The Ohio-born songwriter has released a dozen albums over the last 15 years. His most recent, Passionate Kind, has been something of a rebirth for Bucaro, though, thanks in no small part to its willingness to engage with the current moment. Single "Where Do I Go?" is a plea for direction in confusing times, which Bucaro wrote in the wake of the 2016 election. Other tracks on Passionate Kind, like the prescient "Sleepwalker," take similar stock of today's particular brand of social ills.
Doors will open at 7pm for this reserved seating performance. Wearing a mask indoors is strongly encouraged.
Vaccine verification or negative covid test results within 48 hours required
to enter the venue.
COVID Policy FAQ
.
Shawn Colvin – VIP Package
Package includes
One premium reserved ticket located in the first 3 rows
VIP early access into the venue
Private and intimate pre-show acoustic performance by Shawn Colvin
Q&A with Shawn Colvin
Exclusive Steady On tote bag
Limited edition poster, autographed by Shawn Colvin
Official VIP laminate
Very limited availability
The meet & greet event will begin at 6:30pm. VIP package purchasers will receive a confirming email a few days prior to the concert.