The selected performance is NOT available for sale.
Please Select Tickets
You have selected: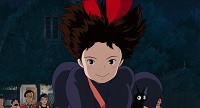 Studio Ghibli at the BCT
2022 Kiki's Delivery Service
Wearing a mask and vaccine verification or negative COVID test required.
Saturday, January 29, 2022
at
7:00PM
Buskirk-Chumley Theater
114 E. Kirkwood Ave.
Celebrate this beloved coming-of-age story from the legendary Studio Ghibli, creators of Spirited Away,and Academy Award®-winning director Hayao Miyazaki, about a resourceful young witch who uses herbroom to create a delivery service, only to lose her gift of flight in a moment of self-doubt. 
It is a tradition for all young witches to leave their families on the night of a full moon and fly off into thewide world to learn their craft. When that night comes for Kiki, she embarks on her new journey with hersarcastic black cat, Jiji, landing the next morning in a seaside village, where her unique skills make her an instant sensation. Don't miss this delightfully imaginative and timeless story of a young girl finding her wayin the world, featuring the voices of Kirsten Dunst, Janeane Garofalo, Phil Hartman, and Debbie Reynolds. 
Rated G.
Studio Ghibli at the BCT:
1/15 -
Spirited Away
1/22 -
My Neighbor Totoro
1/28 -
Castle in the Sky
1/29 -
Kiki's Delivery Service
Doors open at 6 pm for this general admission event. The runtime of the film is
102 mins. Wearing a mask is required indoors in Monroe County. Vaccine verification or negative covid test results within 48 hours required to enter the venue. COVID Policy FAQ.