The selected performance is NOT available for sale.
Please Select Tickets
You have selected: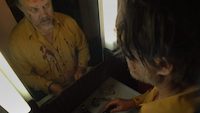 BrickFlix Returns
Monday, October 25, 2021
at
6:30PM
The Brick
579 Metropolitan Avenue
BrickFlix has resurrected just in time for Halloween! We're celebrating the return of BrickFlix with a hair-raising Halloween program, honoring indie horror auteur Larry Fessenden. There will be a classic Glass Eye Pix feature, a sneak preview of Larry's spooky new short and vintage trailers from our secret weapon Gary Balaban. Plus free 'Depraved' pizza from Two Boots and plenty of refreshments First up, we will be treated to a program of vintage shorts from legendary cinefile and archivist Gary Balaban, then Larry Fessenden will introduce his latest short film Fever, "a mixture of spoken word narrative and disturbing images" and we top it all off with one of the best horror films of the past 20 years, The House of the Devil, directed by Ti West. Fever – directed by Larry Fessenden is a segment from Isolation – Nine tales of terror weave together the story of isolated citizens around the world as they confront their darkest fears in an attempt to survive an increasingly deadly outbreak. The House of the Devil – Desperate to make some money so she can move into a new apartment, college student Samantha Hughes (Jocelin Donahue) takes a mysterious babysitting job. When she arrives at the house, Mr. Ulman (Tom Noonan) mentions a full lunar eclipse and explains there is no child, but that Samantha will be watching his mother instead. After exploring the sinister-seeming house, Samantha soon comes to realize that her employers are hiding a horrifying secret and have plans to use her, dead or alive.