The selected performance is NOT available for sale.
Please Select Tickets
You have selected: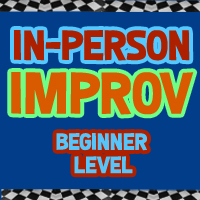 Brooklyn Improv Training
Beginner Improv (Winter 22)
Beginner Level
Monday, January 24, 2022
at
7:00PM
Brooklyn Arts Exchange
421 5th Ave
Park Slope
8 Session course!
Learn the basics of thinking on your feet in a fun, safe, and ensemble-builidng environment!

Brooklyn Improv Training's years of teaching experience will guide you through the adventure of embracing the "strong and wrong," finding radical agreement, re-learning how to listen, and unlocking hilarity together! We pride ourselves on not teaching people how to be funny, but, instead we show you how to make the whole room funnier.
Co-Taught by Scarlet Maressa Rivera and Nolan Kennedy with a combined 35 years of improv performance and instruction, this class is for anyone wanting to try something new, meet other people through the joys of on-your-feet haha.
No previous improv training necessary, just an open mind! Ages 18 & up. Valid proof of COVID-19 required.
Mondays
7PM-9PM
Brooklyn Arts Exchange (421 5th Ave, Brooklyn, NY 11215)
$275
Refresher Rate $125
Class Dates

Jan. 24
Jan. 31
Feb. 7
Feb. 14
Feb. 21
Feb. 28
March 7
March 14
COVID note: In accordance with the Key-to-NYC initiative, all attendees must present proof of vaccination as well as fill out a short form upon enetering BAX.
Please review our Code of Conduct by clicking here.
---------
Brooklyn Improv Training (BIT) teaches ensemble improv: the skills of spontaneously creating, as a group, a single piece of work. Drawing from the wisdom of Viola Spolin, Keith Johnstone, Del Close, and also from 15 years of improv teaching experience in NYC and beyond, the BIT approach is experiential, on your feet, and full of joy. We teach letting go of judgment, how to stay present, how to embrace the "strong and wrong," and many other practical strategies to create hilarious, delightful scene work with an ensemble of players. Our goal is not to teach you how to be the funniest person in the room, it's to make the whole room funnier. All classes are 18 and up.
For more information visit our website: www.lomtheater.org