Please Select Tickets
You have selected: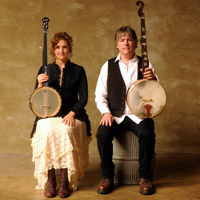 BCT Presents
2017 Béla Fleck & Abigail Washburn
Saturday, May 13, 2017
at
8:00PM
Buskirk-Chumley Theater/BCT Box Office
114 E. Kirkwood Ave.
A banjo duo might seem like a musical concept beset by limitations. But when the banjo players cast in those roles are Béla Fleck & Abigail Washburn - she with the earthy sophistication of a postmodern, old-time singer-songwriter, he with the virtuosic, jazz-to-classical ingenuity of an iconic instrumentalist and composer with bluegrass roots - it's a different matter entirely. There's no denying that theirs is a one-of-a-kind pairing, with one-of-a-kind possibilities.

Fleck and Washburn have collaborated in the past, most visibly in their Sparrow Quartet with Casey Driessen and Ben Sollee. Until last fall, however, any performances they gave as a two-piece were decidedly informal, a pickin' party here, a benefit show at Washburn's grandmother's Unitarian church there. It was inevitable, and eagerly anticipated by fans, that these partners in music and life (who married in 2009) would eventually do a full-fledged project together.

Lately Fleck, a fifteen-time GRAMMY winner, has devoted time away from his standard-setting ensemble Béla Fleck and the Flecktones to a staggeringly broad array of musical experiments, from writing a concerto for the Nashville Symphony to exploring the banjo's African roots to jazz duos with Chick Corea. Washburn has likewise drawn critical acclaim for her solo albums, done fascinating work in folk musical diplomacy in China, presented an original theatrical production, contributed to singular side groups Uncle Earl and The Wu-Force, and become quite a live draw in her own right. Finally, Fleck and Washburn decided they were ready to craft their debut album as a duo, Béla Fleck & Abigail Washburn (released on Rounder Records).

Washburn and Fleck playfully embrace the notion that they've become a family band. At home, on stage, or on record, it's their deep bond, along with the way their distinct musical personalities and banjo styles interact, that makes theirs a picking partnership unlike any other on the planet.

This is a reserved seating show. Doors will open at 7:30pm. Please note there will be no opening act for this show.