Please Select Tickets
You have selected: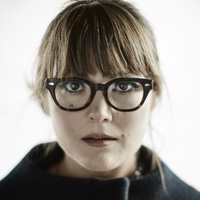 BCT Presents
2017 Sara Watkins
Wednesday, May 31, 2017
at
8:00PM
Buskirk-Chumley Theater/BCT Box Office
114 E. Kirkwood Ave.
Sara Watkins is an American singer-songwriter and fiddler. Watkins debuted in 1989 as fiddler and founding member of the progressive bluegrass group Nickel Creek, along with her brother Sean and mandolinist Chris Thile. Watkins also plays the ukulele and guitar, and played percussion while touring with The Decemberists, an indie rock band based in Portland, Oregon.

Watkins released her third solo album, Young in All the Wrong Ways, in 2016. "This is a breakup album with myself..." says Watkins of writing and recording these ten soul-baring songs about the last couple of year, a time in her life which she considers transformative. "I looked around and realized that in many ways I wasn't who or where I wanted to be. It's been a process of letting go and leaving behind patterns and relationships and in some cases how I've considered myself."

That sense of possibility infuses the songs on Young in All the Wrong Ways, which makes this her most powerful and revealing album to date. In some ways it's a vivid distillation of the omnivorous folk-pop-bluegrass-indie-everything-else Watkins made with Nickel Creek, yet she also pushes against expectations. These songs contain some of the heaviest moments of her career, with eruptions of thrumming B3 organ and jagged electric guitar. But it's also quiet, vulnerable, and tenderhearted. In other words, bold in all the right ways.

Fittingly, Watkins wrote or co-wrote every song on Young in All the Wrong Ways—a first for her. Her previous albums have featured well-chosen covers that compliment her own songs and showcase her interpretive abilities. "I love singing other people's songs, and originally I did plan to have a couple of covers on the album. But as we were recording and getting a picture of how everything fit together, it became apparent that the covers really stood apart from the story that was taking shape. I felt like I just had a little bit more to say. Everything is coming from me, so there's a unified perspective on this album that's different from what I've done before."

Watkins knew just the right people to bring these tough-minded songs to life. She corralled longtime friend and fellow fiddler Gabe Witcher to produce, then put together a band that includes two of Witcher's fellow Punch Brothers: guitarist Chris Eldridge and bass player Paul Kowert. Providing harmonies on the title track are Sarah Jarosz and Aoife O'Donovan, Watkins' bandmates in I'm With Her. Jim James of My Morning Jacket provides a vocal foil on "One Last Time." Says Watkins, "I've known these guys for a long time, so there's a personal trust as well as a musical trust. I was able to put my heart and soul into these performances, in a way that I don't think I would be able to if I was in a room full of strangers. It allowed me to give myself over to some of these very personal thoughts that are in the lyrics."

Join Sara Watkins, backed by a small band, at the Buskirk-Chumley Theater to hear songs from her latest album and music from throughout her career.

Opener
The opener will be Lilly Hiatt, a fine singer and gifted songwriter with a knack for rootsy sounds and smart, unpretentious songs, not unlike her father, John Hiatt.

Doors will open at 7:30 for this reserved seating show.