The selected performance is NOT available for sale.
Please Select Tickets
You have selected: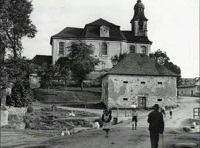 Survival & Memory: What Decent People Do In Times of Crises
2017 In the Shadow of Memory (at IU Fine Arts Theater)
Ryder Film Series
Friday, April 21, 2017
at
7:00PM
IU Fine Arts
1201 E. 7th St
In the Shadow of Memory is part of the film series Survival & Memory: What Decent People Do In Times of Crisis, which focuses on the films of Jacky Comforty. The Ryder Film Series is screening three of his films and Mr. Comforty will host discussions after some of the screenings.

About the Film
In the Shadow of Memory is a one-hour documentary film about on-going struggles of children and grandchildren who are coming to grips with Nazi horrors suffered by their elders.

The film focuses on Jerri Zbiral, the daughter of a survivor of the Nazi destruction of the Catholic village of Lidice, Czechoslovakia. Even though Jerri was born after the war, her mother's stories continue to have a profound effect on her life.

The 50th anniversary of the Lidice massacre provides a back-drop for Jerri to speak with women who survived the ordeal, with German visitors to the memorial ceremony and with others.


About Jacky Comforty:
Jacky Comforty has created documentary films and videos in the United States, Germany, Israel, and Bulgaria. He commands a range of genres, from documentaries to comedies. Over the last 30 years, Jacky Comforty has specialized in two main subjects. His work has been groundbreaking in the fields of Inclusive Education and Holocaust Studies. He is particularly known for his work on the rescue of the Bulgarian Jews from the Holocaust. He is known for the effective, sensitive, interviewing techniques he has developed for oral histories and other projects requiring on-camera discussions that are genuine, meaningful, and in-depth.


Doors will open 30 minutes prior to the start of the film. The film will run approximately 60 minutes. Tickets will be sold at the door if still available (cash only).

*There are multiple screenings of this film offered at two locations.

This screening will be followed by a Q & A with the director Jacky Comforty.