The selected performance is NOT available for sale.
Please Select Tickets
You have selected: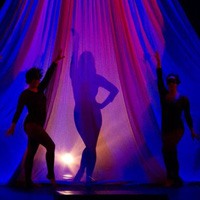 Dance Network Alliance
2017 Va-Va-Va Vaudeville!
Saturday, August 19, 2017
at
8:00PM
Buskirk-Chumley Theater
114 E. Kirkwood Ave.
Step right up, folks! Plenty of room inside the AIR-CONDITIONED THEATER!

SEE Amazing Aerial Artistry & Whirling Hoopsters & Performing Animals! THRILL to Acrobatic Youngsters & Feats of Magic! COME ALIVE with Burlesque & Assorted Evocative Dance! HEAR Side-Splitting Comedy & LIVE Musical Accompaniment!

VA-VA-VA VAUDEVILLE has it all!

Sponsored by the Dance Network Alliance, this variety show extravaganza of Bloomington performers harkens back to early twentieth-century vaudeville troupes that crisscrossed the country by train, entertaining young and old alike. There is something for everyone, including a children's matinee featuring many younger performers, and a more risqué, adult evening show.

Performers include members of AsaBela Aerial Circus Academy, The Hudsucker Posse, Windfall Dancers, Bloomington Acro Yoga, The Dance Center, plus the Delightful Regina Sweet, Mad 4 My Dog, Starkey the Wonder Horse, Charlie the Parrot, and Stardusters Swing Band.

Matinee hosted by the Hilarious Joseph Ermey with live music by Ross Martinie Eiler. Evening show hosted by The People's Diva Argenta Peron and two-time Bloomington Comedy Festival winner David Britton.

Made possible in part by the Bloomington Arts Commission and the Buskirk-Chumley Theater Arts Start Up Program.

Children's Matinee
The children's matinee will run 70 minutes. Following the performance there will be a Q&A with live demos.

Evening Performance
The evening performance will run 2 hours.The evening performance, which includes a burlesque act and comedy performances, is recommended for those 18 and older.

Doors will open 30 minutes prior to each show time. Ticket prices will increase to $6 & $12 for the 2pm performance and $15 for the 8pm performance on the day of the show.
The evening performance features risque adult themes, and is not appropriate for children.