The selected performance is NOT available for sale.
Please Select Tickets
You have selected: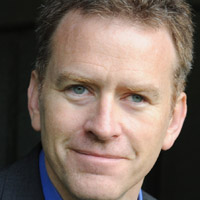 WFIU Public Radio Presents:
2017 An Evening with Steve Inskeep
Friday, September 15, 2017
at
8:00PM
Buskirk-Chumley Theater
114 E. Kirkwood Ave.
Steve Inskeep will discuss his adventures and experiences as an NPR host. The event will include a video component and Q&A session.

Steve Inskeep is host of NPR's Morning Edition, as well as NPR's morning news podcast Up First, with Rachel Martin and David Greene.

Known for posing probing questions to everyone from presidents to warlords to musicians, Inskeep has a passion for stories of the less famous—like an American soldier who lost both feet in Afghanistan, or an Ethiopian woman's extraordinary journey to the United States.

Since joining Morning Edition in 2004, Inskeep has hosted the program from New Orleans, Detroit, Karachi, Cairo, Houston, and Tehran; investigated Iraqi police in Baghdad; and received a 2006 Robert F. Kennedy journalism award for "The Price of African Oil," on conflict in Nigeria. In 2012 he traveled 2,700 miles across North Africa in the wake of the Arab Spring. In 2013 he reported from war-torn Syria, and on Iran's historic election. In 2014 he drove with colleagues 2,428 miles along the entire U.S.-Mexico border; the resulting radio series, "Borderland," won widespread attention, as did the acclaimed NPR online magazine of the same name.

A native of Carmel, Indiana, Inskeep is a graduate of Morehead State University in Kentucky.

Doors will open for this reserved seating event at 7:30 pm. The event is expected to last two hours.