The selected performance is NOT available for sale.
Please Select Tickets
You have selected: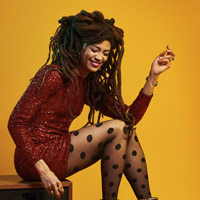 BCT Presents
2018 Valerie June
Tuesday, February 20, 2018
at
8:00PM
Buskirk-Chumley Theater
114 E. Kirkwood Ave.
At heart, Valerie June is first and foremost a songwriter, willing and able to blur the lines between genres and eras of sounds. Her music is an eclectic blend of folk and soul and country and R&B and blues.

"People shouldn't necessarily think of bluegrass when they see the banjo," explains June. "It was originally an African instrument, and people in America used to play all kinds of banjo: mandolin banjo, ukulele banjo, bass banjo, classical banjo, jazz banjo, there were even banjo orchestras. For some reason people like to limit it and say it just has to be in folk and bluegrass, but to me it can be in anything, and I really wanted to set the banjo free..."

With her 2013 album, Pushin' Against A Stone, June went from self-releasing her music as Tennessee's best kept secret to being hailed by the New York Times as one of America's "most intriguing, fully formed new talents." The New Yorker was captivated by her "unique, stunning voice," while Rolling Stone dubbed her "unstoppable," and NPR called her "an elemental talent born with the ability to rearrange the clouds themselves." June has toured with artists like Sharon Jones & The Dap Kings, Sturgill Simpson, Norah Jones, and Jake Bugg in addition to flooring festival crowds at Bonnaroo, Outside Lands, Newport Folk, Hangout, ACL, Pickathon, Mountain Jam and more.

Since the release of Pushin' Against A Stone, June has been patiently at work in the garden of song, nurturing seedlings with love and care into the lush bloom that is her stunning new album, The Order Of Time. Some songs grew from seeds planted more than a decade ago, others blossomed overnight when she least expected them to, but every track bears the influence of time. Time is the only constant in life, even though it's constantly changing. It's the healer of all wounds, the killer of all men. It's at once infinite and finite, ever flowing with twists and turns and brutal, churning rapids that give way to serene stretches of placid tranquility.

"Time is the ruler of Earth's rhythm," June says. "Our daily lives revolve around it. Our hearts beat along to its song. If we let it, it can be a powerful guide to turning our greatest hopes and dreams into realities."

Thankfully for us, June was ready when time told her to harvest these songs. In the garden, as in life, there is a time for everything and the moment has finally arrived to enjoy the fruits of all her labor. With The Order Of Time, Valerie June has prepared a bountiful feast, and there's a seat at the table for everyone.

Americana Roots duo The War and Treaty will perform a short opening set. Doors will open at 7:30pm for this reserved seating event.