The selected performance is NOT available for sale.
Please Select Tickets
You have selected: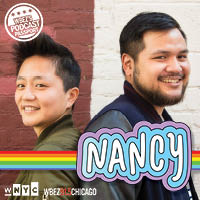 WBEZ 2017: Podcast Passport presents Nancy
Saturday, December 2, 2017
at
8:00PM
Athenaeum Main Stage
2936 N. Southport Ave.
Lobby level
Lincoln, Wellington and Southport
CTA Bus #9; Brown Line Wellington Stop
All ages. Performance lasts 90 minutes without intermission.
VIP Seats include premium seating, plus a Meet & Greet with Tobin and Kathy on stage after the show.
Hailed by Time as "[I]mpressive… [a show that] will make listeners both laugh out loud and tear up,"
NANCY
is WNYC Studios' hit podcast covering "all things LGBTQ and beyond."
Co-hosts and BFFs
Kathy Tu
and
Tobin Low
are super queer, super fun and super ready to share provocative stories and frank conversations about the LGBTQ experience – and now you can catch them live in Chicago!
NANCY
has brought listeners episodes on a range of topics, from unpacking what it means to be a gay Republican to a multigenerational conversation between an older and younger man about their HIV diagnoses to heated arguments over the burning question: is Dumbledore really gay? Most recently, its OUT at WORK project took the pulse of openness in the workplace at a time when states are inconsistent in their protections for LGBTQ people on the job.
As they do in their podcast, Kathy and Tobin will welcome to the stage several guests who will share their unique stories and the weird, funny, and poignant journeys we take to get there.
Special guests for the evening include
writer
,
Fatimah Asghar
, and
director
,
Samantha Bailey
, writer of the Emmy-nominated, viral web series,
Brown Girls
, onstage! HBO recently announced a deal to develop Brown Girls into a series. Fatimah and Sam will chat about their personal experiences in Chicago, how real life has influenced the storyline and the adventures and challenges of creating a female-centric portrait of the city.
In October, 31-year- old
Pidgeon Pagonis
led a group of activists in a sidewalk protest in downtown Chicago. They held signs that read "Intersex Operations Are Human Rights Violations," "Let Intersex Children Choose" and "Where's My Clitoris?" The protest drew attention for its choice of venue – a children's hospital – as well as the cause that was unfamiliar to many passersby. Pidgeon will join NANCY co-hosts Tobin and Kathy to talk about that cause -- and the once-taboo subject matter at its core.
Travon Free
is a writer, comedian and staffer on
Full Frontal With Samantha Bee
who won an Emmy for his work on the show's recent special
Not the White House Correspondents' Dinner
. His writing credits include The Daily Show With Trevor Noah and Bill Simmons' HBO series
Any Given Wednesday
. He also is co-host of the Hamilton-obsessed podcast
The Room Where It's Happening
. He'll talk about being funny in politics AND sports AND Hamilton, his college basketball career, and New York cabs that won't pick him up, even when he's hailing them while holding an actual Emmy.
ABOUT THE GUESTS:
Fatimah Asghar
is a nationally touring poet, screenwriter, educator and performer. Her work has appeared in many journals, including POETRY Magazine, Gulf Coast, BuzzFeed Reader, The Margins, The Offing, Academy of American Poets and many others. Her work has been featured on new outlets like PBS, NPR, Time, Teen Vogue, Huffington Post, and others.
Sam Bailey
is a writer and director from Chicago, currently residing in Los Angeles. She is the creator of the Gotham- nominated web series: You're So Talented. In 2016, Sam was included on NewCity's Film 50 list. Sam is the director and co-creator of the web series Brown Girls. The series is nominated for an Emmy in Outstanding Short Form Comedy or Drama Series-2017. Her work has been reviewed and featured on many platforms including Elle, W Magazine, Fox News, and Out Magazine.
Brown Girls
is an intimate story of the lives of two young women of color. Leila is a South Asian-American writer just now owning her queerness. Patricia is a sex-positive Black-American musician who is struggling to commit to anything: job, art and relationships. While the two women come from completely different backgrounds, their friendship is ultimately what they lean on to get through the messiness of their mid-twenties.
Intersex activism is
Pidgeon Pagonis
' life work. The Chicago native travels the country giving talks -- to school groups, companies, journalists, and anyone who will listen – about people who are born with sex characteristics that do not fit our typical definitions of male and female. Pidgeon explains that intersex bodies are more common than you might think. That the term "hermaphrodite" is no longer acceptable. And that surgeries performed on intersex infants and young children have to stop. One of those surgeries is where Pidgeon's story began.
WBEZ's Podcast Passport
brings podcasts from across the country to Chicago audiences who love live shows. This series provides an opportunity for WBEZ fans to engage with their favorite podcasts, as well as introduce new people to the exciting work WBEZ is doing in their communities. For more information, visit wbez.org/events.