The selected performance is NOT available for sale.
Please Select Tickets
You have selected: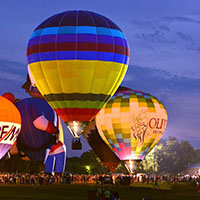 2018 Kiwanis Indiana Balloon Fest
Sunday, September 9, 2018
Monroe County Fairgrounds
5700 West Airport Road
IMPORTANT ANNOUNCEMENT:
We must sadly announce that the 2018 SCI Kiwanis Indiana Balloon Fest has been canceled due to the impending weather that is moving into the Indiana area as a result of the tropical storms in the Gulf region.
We can't thank each of you enough for your interest and support in our event. Many months of work has gone into this year's Balloon Fest, and you have all been a tremendous part in what would have made this year a huge success.Thank you for your support of this event that would have raised funds for Riley Children's Hospital, Boys & Girls Clubs of Bloomington and other Kiwanis projects such as Templeton Elementary BUG (Bring Up Grades) program, Jaxson's adaptive bike and SCCAP Head Start events.
If you purchased tickets in advance
, your purchase will be returned to your credit card on Monday. We are slightly delaying refunds because many ticket holders have expressed interest in allowing Kiwanis to keep the money paid for their tickets to help cover expenses already incurred. If you would like to donate your ticket purchase to Kiwanis, please contact Rebecca Stanze, associate director at the BCT Box Office where our tickets are sold, by 8am on Monday. Leave a voicemail at 812-323-3023 or email associatedirector@buskirkchumley.org expressing your wishes.
Even if you have asked Kiwanis to keep your ticket purchase through other means (Facebook, texts, etc.), the BCT Box Office is coordinating sales and refunds and must be notified directly if you would like to support our cause. Anyone who does not call or email will receive a full refund Monday morning. Immediate refunds can be requested by contacting the BCT Box Office at 812-323-3020.
We hope you will all understand this decision, and again, THANK YOU!
David Mitchell, Balloonmeister
Vanessa McClary, Kiwanis Indiana Balloon Fest
BALLOON FEST:
Join us for the 6th annual
Kiwanis Club of South Central Indiana Balloon Fest
at the Monroe County Fairgrounds. Our Kiwanis Club will support charities with the funds generated by this festival. Come out to have fun and support important causes.
Festival highlights include
balloon launches
each morning and evening (weather permitting). We will host colorful, enormous hot air balloons and there is nothing more beautiful than to see these multicolored balloons ascend into the sky.
Another popular event of the Balloon Fest is the
Night Glow
. Following Friday and Saturday evening's launch the balloons return to the festival to conduct a Night Glow. At this event, the multicolored balloons are tethered to the ground and illuminated with propane heaters. It is one of the most fascinating sights imaginable.
Food vendors will entice the taste buds and all types of live entertainment will round out the weekend, including:
*Kiwanis Idol
*Cornhole Tournament
*Giant Kites
*LCW 5K Run/Walk
*Kaboom Bumper Cars
*Car/Bike Show
*a special appearance by pyrotechnic skydivers to kick off the IBEW Local 725 Fireworks on Saturday night
*and so much more!
Please check the
website schedule
for events and times.
Balloon Rides:
Balloon rides are
not
included in the purchase of your pass. Limited un-tethered balloon rides will be available for $250 per person. The phone number to arrange un-tethered rides is available on the
festival website
and
Facebook page
. Tethered balloon rides are available on a first-come, first-served basis for $10 per person. All balloon activity is weather-dependent. You can enter to win a hot air balloon ride by donating non-perishable food at the event for Hoosier Hills Food Bank.
Sponsors:
Oliver Winery, Visit Bloomington, International Brotherhood of Electrical Workers Local #725, Shelby County Co-op, Monroe County Fairgrounds, Perfect Parties Tents & Events, Old National Bank, & Midwest Color Printing
Policies:
Some portion of the event will be held regardless of weather. Balloons will not fly if weather conditions are unfavorable. Refunds are not available. As some activities are dependent on the weather, we encourage you to arrive with a flexible attitude about your planned activities. With so much happening at the fairgrounds, you are sure to find something fun to do even when the balloons aren't available! The festival will welcome thousands of visitors over the weekend and the traffic accessing the fairgrounds can get backed up. Please allow extra time to access parking.
Gates will be open:
3pm-10pm Friday, September 7th
7am-10pm Saturday, September 8th
7am-7pm Sunday, September 9th