The selected performance is NOT available for sale.
Please Select Tickets
You have selected: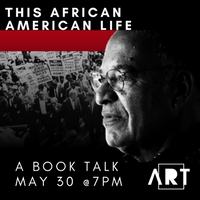 Hugh Price in Conversation and Book Signing
Wednesday, May 30, 2018
at
7:00PM
The Billie Holiday Theatre
1368 Fulton street
RestorationART and Brooklyn Historical Society collaborate to present a conversation and book signing with Hugh B. Price. Price is a long-time civil rights leader, activist and public intellectual. As president of the National Urban League from 1994 to 2003, he launched the League's historic Campaign for African-American Achievement, spearheaded pressure on the federal government to combat police brutality and racial profiling, vigorously defended affirmative action, and helped repair frayed relations between the black and Jewish communities. He has been an editorial writer for the New York Times, senior vice president in charge of national production at WNET/Thirteen in New York City, and vice president of the Rockefeller Foundation. The author of five books, his most recent is a memoir entitled This African-American Life. He served on the boards of Verizon, MetLife, Georgetown University, Mayo Clinic and ETS. Price is a fellow of the American Academy of Arts and Sciences and a member of the American Philosophical Society. In This African-American Life, Price traces his family's forbearers, which include several interesting and historically significant ancestors like Nero Hawley, who fought in the American Revolution and served at Valley Forge under Washington and George Latimer and his wife who escaped from slavery in Virginia stowing away on a boat and traveling to the North as a master and salve. When George was spotted by someone from his past, the effort to return him to his master became one of the earliest fugitive slave cases attracting the involvement of Frederick Douglass and William Lloyd Garrison. Price talks about his protected childhood in the segregated neighborhood near Howard University, his love of baseball, his experiences as one of five brothers in his freshman class at Amherst, where he also played baseball and basketball, his courtship of his wife, and then goes on to detail the varied positions he held during his professional career. Throughout his memoir, Price shows how his background led him to champion education and the creation of opportunity to help others reach the high levels he has been able to achieve during his lifetime.