The selected performance is NOT available for sale.
Please Select Tickets
You have selected: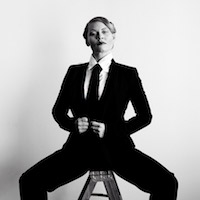 [MAINSTAGE]
My Marlene
Written and performed by Tjasa Ferme
Wednesday, July 11, 2018
at
7:30PM
Dixon Place
161A Chrystie Street
Btwn Rivington & Delancey
F to 2ND AVE, B/D to GRAND, J/Z to BOWERY, 6 to SPRING, M to ESSEX
War has returned to Europe and the Middle East, Paris has been bombed, a flood of refugees surges westward and Trump puts a ban on immigrants. Through the lens of recent events, My Marlene hits home, now more than ever. The play is a an immersive and confessional theatre experience in which the audience is transformed into the battle-hardened soldiers that Marlene Dietrich entertained during the closing years of World World II.
With imagery evoking German Expressionism and the dynamic days of the birth of Cinema, it tells the story of Marlene's life and times. The period songs, with their acidic, cynical tone, so characteristic of that Weimar Decadence, serve to highlight Marlene's status as an erotic pioneer with her gender ambiguity. Here on the front lines, Marlene unveils her contradicting faces: selfless war hero, tyrannical mother, unrestrained lover, and insatiable romantic. Interspersed with her songs, private letters and films, My Marlene seduces the audience while bombs fall all around.
Tickets
Presold: $15 adults, $12 stu / sen / ID NYC
Walkup: $18 adults, $15 stu / sen / ID NYC