The selected performance is NOT available for sale.
Please Select Tickets
You have selected: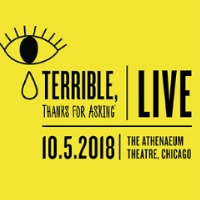 WBEZ 2018: Podcast Passport: Terrible, Thanks for Asking
Presented by WBEZ's Podcast Passport and The Fest, curated by Third Coast International Audio Festival
Friday, October 5, 2018
at
8:00PM
Athenaeum Main Stage
2936 N. Southport Ave.
Lobby level
Lincoln, Wellington and Southport
CTA Bus #9; Brown Line Wellington Stop
All ages. Doors at 7 pm. Performance lasts 90 minutes without intermission, followed by an informal Q&A that concludes at 11 pm.
You know how every day someone asks "how are you?" And even if you're totally dying inside, you just say "fine," so everyone can go about their day? Terrible, Thanks for Asking is a podcast that is the opposite of that. They ask real people to share their complicated and honest feelings – sometimes sad, sometimes funny, and sometimes both at once.

Join us for a live performance of the podcast Terrible, Thanks for Asking, featuring stories and conversations about real lived experiences. Host Nora McInerny will provide her signature sad, funny, uncomfortable and honest take on love, grief, life and everything that comes with it.

Presented in partnership with WBEZ's Podcast Passport and The Fest Curated by Third Coast International Audio Festival.

About the Presenters

The WBEZ Podcast Passport is Chicago's yearlong, curated live podcast event series brought to curious Chicago audio nerds – veterans and rookies! – who crave long form storytelling and honest, impactful conversations. The WBEZ Podcast Passport hand-selects the best shows and voices and brings them from the listener's ears to their own backyard for an IRL experience. A ticket to a WBEZ Podcast Passport show supports local public media and cultivates engagement so that listeners can connect more deeply with conversations that affect their communities.

Each fall, Third Coast curates The Fest: a spectacular two-week lineup of podcasts, live on-stage in venues across the city. Together with the Third Coast Conference — an annual gathering of audio makers from around the world — The Fest transforms Chicago into the center of the podcasting universe. Harnessing the talent of the audio industry and the energy of local audiences, The Fest pushes the boundaries of what live podcasts can be.