The specified code is not valid for this event.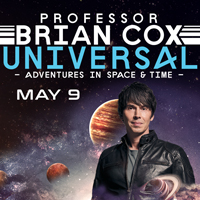 WestBeth Entertainment presents
Professor Brian Cox
Universal - Adventures In Space & Time
Thursday, May 9, 2019
at
8:00 PM
All ages. Performance lasts approximately 2 hours with one 15-minute intermission. All sales are final -- no refunds, cancellations, or exchanges.
Athenaeum Main Stage
[map]
2936 N. Southport Ave.
Lobby level
Chicago, IL 60657
Lincoln, Wellington and Southport
CTA Bus #9; Brown Line Wellington Stop
ProfBrianCoxLive.com
"Brian Cox is as famous, if not more famous, in the U.K. than Carl Sagan EVER was here in America. If you've never heard of him, you've gotta know about this guy." – Neil deGrasse Tyson
The Professor Brian Cox
Universal
world tour 2019. With state of the art imagery using massive ultrahigh definition screens Brian will explore the nature of space and time from the big bang to black holes, the latest missions to the planets and the origin and fate of life and intelligence in the universe. He offers a fascinating insight into the workings of nature at the most fundamental level.
Whether an avid science reader or a total novice,
Universal
will make the latest scientific discoveries and ideas accessible.
Brian will be joined by his co-host of
The Infinite Monkey Cage
and award-winning comedian Robin Ince to oversee an audience Q&A, giving fans the chance to ask any questions they have and making every show unique.
"If I had a torch I would hand it to Brian Cox." – Sir David Attenborough