The selected performance is NOT available for sale.
Please Select Tickets
You have selected: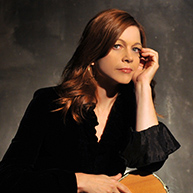 BCT Presents
2019 Over the Rhine & Carrie Newcomer
Saturday, June 8, 2019
at
8:00PM
Buskirk-Chumley Theater
114 E. Kirkwood Ave.
We are pleased to present an evening of acoustic music from two local favorites: Over the Rhine & Carrie Newcomer.

Over the Rhine
When you listen to Over the Rhine, the supremely talented musical couple comprised of Karin Bergquist and Linford Detweiler, you quickly fall under the spell of Karin's timeless voice "which has the power to stop the world in its tracks" (Performing Songwriter). But then the songs start hitting you. Paste Magazine writes, "Over the Rhine creates true confessional masterpieces that know neither border nor boundary" and included Bergquist and Detweiler in their list of 100 Best Living Songwriters.

Rolling Stone recently described Over the Rhine as a band "with no sign of fatigue, whose moment has finally arrived." That's quite a sentiment for a band celebrating 30 years of writing, recording, and life on the road. But as Karin Bergquist states, "There is still so much music left to be made." Love & Revelation, the brand new album from Over the Rhine, is a record for right now. The songs have been rigorously road tested and burst at the seams with loss, lament, and resilient hope. The LA Times writes, "The Ohio based husband and wife duo has long been making soul-nourishing music, and the richness only deepens."

Carrie Newcomer
Bloomington's own Carrie Newcomer is a songwriter, recording artist, performer, and educator. She has been described as a "prairie mystic" by the Boston Globe and as having "a voice as rich as Godiva chocolate" by the Austin Statesman. According to the The Dallas Morning News, "She's the kind of artist whose music makes you stop, think and then say, 'that is so true.'" Recent appearances on PBS's Religion and Ethics and the National Award Winning Krista Tippett's On Being, have focused on her use of creative art-form as a spiritual/mindfulness practice, her work in social/environmental justice, interfaith dialogue, progressive spirituality and as a champion for a new political conversation.

Newcomer has toured with Alison Krauss in Europe and the United States. Nickel Creek recorded Newcomer's song, "I Should've Known Better," on their Grammy-winning album, This Side. Newcomer's first theatrical production, Betty's Diner: The Musical, was produced as part of the Purdue University 2015/2016 theatrical season to rave reviews and a totally sold out run. The music for Betty's Diner: The Musical was written in collaboration with Richard K. Thomas and arranged by Gary Walters. Other recent collaborations with influential authors, scientists and theologians, include; Jill Bolte Taylor, Phillip Gulley, Scott Russell Sanders, and Rabbi Sandy Sasso.

Her latest album is The Beautiful Not Yet (Available Light Records, September 2016). Other Available Light recordings include A Permeable Life and Everything is Everywhere. Newcomer also has 14 national releases on the Concord/Rounder Records including; The Geography of Light, The Gathering of Spirits, and Before and After. In 2014 Newcomer also released her first companion book, A Permeable Life: Poems and Essays. Over half the songs on The Beautiful Not Yet were created for a spoken word/music collaboration with Parker J. Palmer entitled, What We Need is Here: Hope, Hard Times and Human Possibility.

Doors will open for this reserved seating event at 7:30pm. The program is expected to run 140 minutes with one intermission.