The selected performance is NOT available for sale.
Please Select Tickets
You have selected: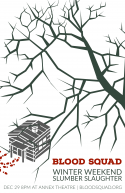 Blood Squad presents
Winter Weekend Slumber Slaughter
Saturday, December 29, 2018
at
8:00PM
Annex Theatre
1100 E. Pike St.
at the corner of 11th & E. Pike
Doors open at 7:30pm
It's that festive week between Christmas & New Years and we're all snuggled down cozy with our cups of good cheer. Say, do you see those fresh tracks in the snow? How strange. We haven't been outside all day. Oh no the generator just went out. Let's light some candles! So pretty in here right honey? Honey? Bob? Stop teasing, I know you're in the kitchen because I can see your shadow creeping around the door frame. Bob? Tis the season for slaughter! For the holidays Blood Squad, in collaboration with Annex Theatre, presents a one-night-only show in the style of Holiday Horror. (Viewer discretion is strongly advised) Blood Squad is veteran improvisers Molly Arkin, Jon Axell, Brandon Felker & Elicia Wickstead. The ongoing mission of BS is improvising various sub-genres of horror films based on a title given by the audience.