The selected performance is NOT available for sale.
Please Select Tickets
You have selected: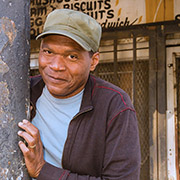 BCT Presents
2019 Robert Cray
Saturday, March 9, 2019
at
8:00PM
Buskirk-Chumley Theater
114 E. Kirkwood Ave.
Robert Cray has been bridging the lines between blues, soul, and R&B for the past four decades, with five Grammy wins, a Blues Hall of Fame induction, an Americana Lifetime achievement award, countless tours, and more than 20 acclaimed albums.

Growing up in the Northwest, Robert Cray listened to the gospel of the Five Blind Boys of Mississippi, Bobby Bland's soul, Jimi Hendrix's rock guitar, and the Beatles pop sounds. He would bring all of the influences into play throughout his career, but his teenage band was captivated by Southern Soul and the blues. "In the early days of the band we were getting back into O.V. Wright and paying attention to my favorite blues players; Buddy Guy, Otis Rush, Albert King and especially Albert Collins," Cray says.

The glow of a career in music began when Cray was a teen, and in 1974 it burst into flames as the Robert Cray Band came together in Eugene, Oregon. With the group's 1980 debut release, Who's Been Talkin', word about the Cray Band began to spread across the Northwest and down into California. Their steamy raucous sets drew crowds whose tastes in music ranged from rock to funk and jazz. Also among the Cray Band admirers were other musicians. John Lee Hooker put his appreciation into action. "The first time we played with Hooker was in Montana. We were opening the set and he was playing solo," Cray recalls. "We'd never met him before but he just walked on stage and started playing with us. We dug the hell out of the guy, and after that we were friends."

The Cray Band's next two releases – Bad Influence and False Accusations – charted, taking the four-piece's sound across the airways and abroad. The group was on a roll, but the players slept on couches. "We were just road rats," Cray says with a chuckle. "We'd take a break for two weeks to record, then go back out. We didn't have a house, a home, any of those responsibilities." On one of those breaks Cray went into the studio with Collins and another great Texas guitarist and singer, Johnny Clyde Copeland, to record Showdown!, a CD that has become essential to any 80s electric blues collection. It was the sounds of the blues and soul that first drew attention from artists in the rock arena. In an interview Eric Clapton gives his initial response to Robert Cray saying, "As a blues fan, we're saved."

Robert Cray and The Robert Cray Band – and most recently Robert Cray with Hi Rhythm - went on to release more than 20 albums and EPs, consistently charting, receiving Grammy recognition, and attracting a broad audience. Following the path of fame taken by blues-based rockers like Johnny Winter and Stevie Ray Vaughan, Cray became a sensation, leading his band in concerts at large arenas and major music festivals. He was the first African American artist since Jimi Hendrix to rise to such fame in rock music.

Doors will open at 7:30pm for this reserved seating show. Robert Cray will perform with the Robert Cray Band. There will be no opening performer.