The selected performance is NOT available for sale.
Please Select Tickets
You have selected: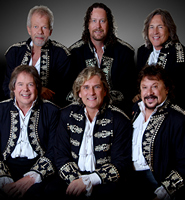 Dynasty Entertainment LLC presents
2019 CANCELED: Paul Revere's Raiders Invade the Colony! (Dynasty Entertainment)
with openers Ronnie Rice, Ray Graffia and Denny Sarokin
Saturday, March 23, 2019
at
7:30PM
Athenaeum Main Stage
2936 N. Southport Ave.
Lobby level
Lincoln, Wellington and Southport
CTA Bus #9; Brown Line Wellington Stop
All ages. Performance lasts 150 minutes plus a 15-minute intermission.

Paul Revere's Raiders Invade the Colony!
Special Guests:
Ray Graffia founding member of New Colony Six
Ronnie Rice formerly of New Colony Six
Denny Sarokin - "Come On Down to My Boat Baby"



Paul Revere organized the Raiders in 1958 and over the years perfected their slick, fast-paced, dynamo of a show that has entertained audiences all over the world. The act features Paul's hand-picked band of the best showmen in the business. After decades of performing in this well-oiled machine and long before Paul's passing in 2014, he decided to get off the road and hand over his legendary three-cornered hat to The Raiders.

Continuing the Paul Revere and the Raiders tradition will be the extremely talented foundation of the show, long-time members (for over 40 years), Doug Heath, Ron Foos & Danny Krause, and rejoining the show is Paul Revere's equally amazing son, Jamie Revere. His blazing guitar work and rockin' stage presence are what you'd expect from someone named REVERE! Rounding out this lineup is multi-talented singer Dave Huizenga, and last but not least is powerhouse drummer, Tommy Scheckel, who spent 27 years with The Buckinghams, who will knock you out with his passion, showmanship, and boundless endurance.

Together, the Raiders will continue to bring you the great Paul Revere and the Raiders hits that you've come to enjoy over the years, along with the showmanship that has set them apart from most other bands performing today.



The music and laughs continue, and the tradition lives on!


Special Guests:

Ronnie Rice, former New Colony Six lead singer and song writer of such hits as "I Will Always Think About You," "Things I Like to Say," "I Could Never Lie to You," and "Long Time to Be Alone."

Ray Graffia is the founding member, singer and song writer of such hits as, "I Confess," "Love You So Much," "I Lie Awake," and "Can't You See Me Cry," for one of Chicago's most respected bands then and still tours as lead singer of Chicago's New Colony Six. Ray will join Ronnie on stage along with another founding member of New Colony Six, Walt Kemp, playing bass guitar.

Famous for ballads of love and sorrow, Ray and Ronnie have sung together for the past 50 years and still enjoy a large following of enthusiastic music lovers from near and far; don't miss this one!

Some of the greatest music ever to come out of Chicago Garage Band Era came from these two gentlemen, and we are so proud to have them join us for this show.

Denny Sarokin was founding member of Every Mother's Son, who had a #1 hit in 1967 with "Come On Down to My Boat Baby." Denny toured with Rick Nelson's Stone Canyon Band for almost 10 years, recording and writing many of the tunes released by Rick. Denny has also toured with Crosby, Stills, Nash and Young. Denny also wrote and recorded hundreds of songs for T.V. and soundtracks for film. He's a producer, studio musician, and one of Nashville's premier guitar instructors.