The selected performance is NOT available for sale.
Please Select Tickets
You have selected: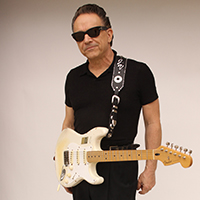 BCT Presents
2019 Jimmie Vaughan & the Tilt-A-Whirl Band
Saturday, June 22, 2019
at
8:00PM
Buskirk-Chumley Theater
114 E. Kirkwood Ave.
Jimmie Vaughan is far more than just one of the greatest and most respected guitarists in the world of popular music. Guitar Player magazine describes him as "a virtual deity--a living legend." After all, Vaughan provides a vital link between contemporary music and its proud heritage, as well as being a longtime avatar of retro cool. He has set the standard for quality modern roots music and has earned the esteem of his legendary guitar-playing heroes and superstar peers, along with successive generations of young players through his solo career and his time with The Fabulous Thunderbirds. His musical ethos and personal style have impacted contemporary culture, from spearheading the current blues revival with The Fabulous Thunderbirds to his personal style with slicked-back hair and sharp vintage threads to becoming a premier designer of classic custom cars. But for Jimmie Vaughan, none of it is part of a crusade or a career plan. It's just his natural way of living his life and pursuing the interests that have captivated Vaughan since his youth.

Jimmie Vaughan is modest in assessing his abilities, though very clear when it comes to his approach. "I try to speak with my guitar in sentences," he explains. "The people that I enjoy and the music that I enjoy are not about just a bunch of licks strung together. If you just play a bunch of guitar licks that aren't connected, it's like throwing a lot of words into a bowl. It doesn't make any sense. It's just words.

"When I listen to Gene Ammons, the great saxophone player, I get the feeling he's telling you a story. That's how I'd like to play guitar someday, when I grow up. That's the goal. That's what I enjoy. That's what makes me get chill bumps--when you listen to music where the phrasing comes out and it speaks. That's the conclusion I've come to after 37 years of playing."

Despite his accomplishments and the admiration he's earned, Jimmie Vaughan has a simple outlook on life and work. "I'm just trying to have fun like everyone else," he concludes. "I've been playing since I was 13. I play every day. I've never stopped. I can't imagine that I could exist without it."

Doors open at 7:30pm for this reserved seating show. There will be no opening act.