The selected performance is NOT available for sale.
Please Select Tickets
You have selected: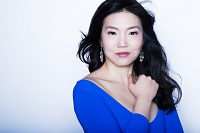 UPC Presents: Jeeyoon Kim - Piano
Over. Above. Beyond.
Benefiting UPC Guest Artist Fund
Thursday, April 4, 2019
at
7:00PM
United Presbyterian Church
1701 E Second St
Jeeyoon Kim returns to her Bloomington home base!

Before becoming a renowned concert pianist and recording star, Jeeyoon came to the United States after her undergraduate studies in piano performance in Korea. She received her Masters of Music and Doctorate of Music in Piano Performances from the Jacobs School of Music at Indiana University, graduating with distinction. She says, "In Indiana, you can feel that the people are real, the music is real, and even a competition is real."

Her greatest passion is music and connection. Her artistry on the piano, which has been hailed as "impeccable, brilliant, and heart-rending," "absolutely phenomenal," and "captivating and powerful," is interwoven with a thoughtful discourse on the nature of the creative process. Her insightful commentary from the stage at her concerts started with her wish to connect with an audience. She is much more than just a pianist who performs music and afterwards disappears. Her artistry and connectivity led to her first album, 10 More Minutes, becoming a smash hit in 2017, leading to a national tour which included Bloomington and concluded with a sold-out performance at Carnegie Hall in New York.

While working toward her doctorate, Jeeyoon served as Music Director at United Presbyterian Church. After receiving her PhD, she continued as Music Director at UPC while serving on the faculty at Butler University.

Jeeyoon continues to be more and more in demand. In December, she released her second album, Over. Above. Beyond., which appears to be on the way to becoming and even bigger hit than her premiere album. At the Global Music Awards it was a Gold Medal Winner in the Emerging Artist Category. At the 2019 Redwood Film Festival the album's music video was an Official Selection. She's now on a national tour to promote the album and in March she'll perform with the Joffrey Ballet in Santa Barbara and San Diego. Without exception, the album is getting rave reviews from both print and broadcast media. As in 2018, Jeeyoon has fit Bloomington and UPC into her national tour.

Jeeyoon's global performance appearances include Forte Piano Salon Live Series, recurring live broadcasts on Chicago's classical music WFMT Radio, Hilbert Circle Theatre in Indianapolis, Wheeler Concert Hall at the University of Evansville, GloVil Art Hall in Korea, Judson Park Auditorium in Cleveland, the Mozarteum Festival in Salzburg, Austria, the San Diego Symphony Chamber Music Series, the Auditorium at TSRI in San Diego, La Jolla Music Society Discovery Series, and the famed Carnegie Hall in Manhattan.

Advance purchase tickets and Will-Call with be available at the BCT Box Office, 114 E Kirkwood, through April 3rd. On the day of the show, Will-Call will open at the venue 6:30pm, and if tickets have not sold out in advance they will be available to purchase by cash, check, or card. Seating will also begin at 6:30pm. Seating is general admission. The show will last about 90 minutes.