The selected performance is NOT available for sale.
Please Select Tickets
You have selected: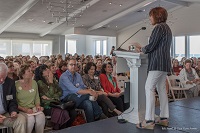 2019 A Day of Words, Wit and Wisdom
Thursday, June 6, 2019
Wychmere Beach Club
23 Snow Inn Road
TICKETS WILL GO ON SALE ON APRIL 30th AT 10 AM

WE CAN's 15th Annual 'A Day of Words, Wit and Wisdom' will take place on Thursday, June 6, 2019, from 8:30 AM until 2:30 PM at the Wychmere Beach Club in Harwich Port.

The luncheon is held in the Harbor room for all guests (regardless of seating option)

OCEAN ROOM This option is program viewing with theater seating.

HYDRANGEA PAVILION The program will be simulcast to this room.

If tickets have sold out, please see below

CLICK HERE FOR THE WAITING LIST

WAITING LIST OPTIONS
1) Ocean Room viewing only
2) Hydrangea Room viewing only
3) Ocean Room or Hydrangea Room viewing


RETURNS and EXCHANGES: All tickets purchased for 'A Day of Words, Wit and Wisdom' are final sales. No refunds will be given. Individuals who are unable to attend may make their own arrangements for the sale or gifting of their ticket and inform the WE CAN office of who will be sitting in their place. Alternatively, if there is a waiting list for the event, WE CAN will be happy to sell the ticket and issue a refund to the original purchaser, or WE CAN will gladly acknowledge the unused ticket as a donation from that individual.