The selected performance is NOT available for sale.
Please Select Tickets
You have selected: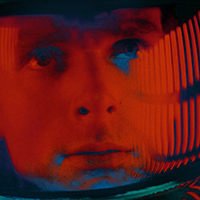 2019 2001: A Space Odyssey
Friday, July 26, 2019
at
7:30PM
Buskirk-Chumley Theater
114 E. Kirkwood Ave.
"Open the pod bay doors, HAL."
An imposing black structure provides a connection between the past and the future in this adaptation of a short story by revered sci-fi author, Arthur C. Clarke. When Dr. Dave Bowman (Keir Dullea) and other astronauts are sent on a mysterious mission, their ship's computer system, HAL, begins to display increasingly strange behavior, leading up to a tense showdown between man and machine that results in a mind-bending trek through space and time.
2001: A Space Odyssey
, produced and directed by Stanley Kubrick, was nominated for four Academy Awards and won for Best Visual Effects. It is widely considered to be one of the most influential films ever made. In 1991, it was deemed "culturally, historically, or aesthetically significant" by the United States Library of Congress and selected for preservation in the National Film Registry. In 2010, it was named the greatest film of all time by
The Moving Arts Film Journal
.
Release Date: 1968
Run time: 2h 44m
MPAA rating: G
Screening format: Remastered, 4k DCP version
This film is part of the
BCT's Summer Sci-Fi Series
. As with all films at the BCT, costumes are encouraged! Join us for all four films!
July 12 -
Back to the Future
(1985)
July 26 –
2001 A Space Odyssey
(1968)
August 9 –
Close Encounters of the Third Kind
(1977)
August 23 –
The Matrix
(1999)
(PS - Also check our full film screening
calendar
for screenings of
Star Wars 
Episodes I - VI!)
Doors open at 7pm for this general admission event.