The selected performance is NOT available for sale.
Please Select Tickets
You have selected: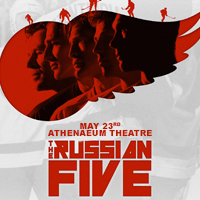 Kickstand Productions presents
2019: THE RUSSIAN FIVE (2018) w/Director Q&A (Kickstand Productions)
1h 42m / Not Rated / Documentary
Thursday, May 23, 2019
at
7:30PM
Athenaeum Theatre
2936 N. Southport Ave.
Main Stage (Lobby level)
Lincoln, Wellington and Southport
CTA Bus #9; Brown Line Wellington Stop
All ages. Performance lasts 2 hours 15 minutes with no intermission. Doors open for seating 30 minutes before screening.
Join The Athenaeum Theatre & Parliament Studios for a very special screening of the new documentary The Russian Five and a post-film Q&A with the film's director, Joshua Riehl, joined by former NHL star Darren McCarty & producer Jenny Feterovich.

*************************************

In the late 1980s, the Detroit Red Wings hockey team was a laughing stock, often called the "Dead Wings." After a wealthy pizza magnate bought the failing franchise, he appointed an unorthodox General Manager to build a championship team. Throwing off conventional wisdom, the new GM looked to America's mortal enemy in the Cold War, the Soviet Union itself. Through a plot that sounds like a spy novel, the Red Wings organization brought on one Russian after another, sneaking them out under cover of night and whisking them to the Motor City, only to find that the new players faced another problem: Integration.

The film follows the stories of the five Russian players that emigrated to America, took root in Detroit, Michigan, and struggled to fit in, all while training day and night to become Stanley Cup champions. The new immigrants had to learn to communicate with their teammates, assimilate into the culture, and become Americans. Yet, along the way, the Russians began to teach the rest of the team the core of Soviet hockey, and better still, they started winning.

The Russian Five is the true story of immigrants that became American heroes, teammates that became family, and a scrappy, resilient city that became Stanley Cup Champions, twice. It's a story about hopes and dreams becoming reality, and the harsh reality of dreaming big. The names Fedorov, Larionov, Fetisov, Kozlov, and Konstantinov are legend now in the Motor City and their influence is still felt throughout the National Hockey League today.

1h 42m / Not Rated / Documentary



https://therussianfive.com/
https://www.facebook.com/theRussianFive
https://twitter.com/RussianFiveFilm
https://www.instagram.com/therussianfive/