The selected performance is NOT available for sale.
Please Select Tickets
You have selected: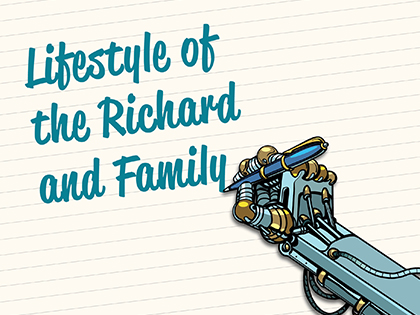 2019 Play Reading: Lifestyle of the Richard and Family
Presented by Company of Fools
Saturday, October 19, 2019
at
2:00PM
Liberty Theatre and Community Library
110 N. Main St.
Performs at two locations!
Space is limited—please reserve your seat in advance!

Oct. 18th 7:00pm at Liberty Theatre, Hailey
Oct. 19th 2:00pm at Community Library, Ketchum
Lifestyle of the Richard and Family
Oct 18, 2019 at 7:00pm, The Liberty Theatre
Oct 19, 2019 at 2:00pm, Community Library, Ketchum
Free! (Suggested donation $10)
Written by Roslyn Helper in collaboration with SwiftKey Note
Directed by Jana Arnold

David values a full-time job and a gym membership, and is having an affair with Clare. Maree prefers to do her shopping online and has a drinking problem. Jimmy has just returned from "the other side." And Sam is a teen goth who likes welding. The story starts in a living room and ends in the deepest reaches of the black hole that is the internet.

This poetically absurd modern drama takes our most familiar truths and our most popular aspirations to a level of strangeness beyond comprehension – but is it a point of no return? Playwright Roslyn Helper partnered with a predictive text AI program to create a theatrical "algorithm" that asks us to consider the increasing role that AI plays, and will play, in our cultural lives. The performance will be followed by a discussion on the future of AI and cultural expression.