The selected performance is NOT available for sale.
Please Select Tickets
You have selected: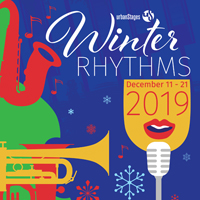 Winter Rhythms
Matsuki Productions Presents: "LEGENDS: EYDIE GORMÉ, ARETHA FRANKLIN & MARGARET WHITING"
Sunday, December 15, 2019
at
1:00PM
Urban Stages
259 West 30th Street
Between 7th and 8th (closer to 8th)
A, C, E, 1, 2, 3, LIRR, NJTransit, Amtrak (Penn Station). B,D,F, M, N, Q, R, W, Path (Herald Square + 8-minute walk)
Matsuki Productions Presents: "LEGENDS: EYDIE GORMÉ, ARETHA FRANKLIN & MARGARET WHITING"
Starring: Patti Bottino-Bravo - Amorika Amoroso - Kathy Kaefer Music Directors: Paul Greenwood & Tracy Stark

Sue Matsuki is proud to present three of New York's best singers performing an eclectic program of legendary singers: Eydie Gormé (Patti Bottino-Bravo), Aretha Franklin (Amorika Amoroso) and Margaret Whiting (Kathy Kaefer). All three ladies are individual Cabaret and Theater stars in their own right so, to have all three of them on one stage is going to be an extraordinary afternoon of music.

Patti Bottino-Bravo returned to the cabaret stage in 2016, after a 27 year hiatus, with her show Dream, Come True!, a story of persistence, insistence, and testimony that it truly is never too late to make your dreams a reality. Her next show, Going Gormé , a tribute to the legendary American and Latin pop star Eydie Gormé, is slated to open in August 2020. - www.PattiBottinoBravo.com

Amorika Amoroso graduated from Temple University with a degree in Jazz Vocal Performance and a minor in Theater. She has been a rock band singer, an improv writer and performer and has appeared in national commercials for Macy's and State Farm, as well as in off-Broadway and off-off Broadway productions. Ms. Amoroso won Mama's Next Big Act and is a MAC Award winner for her one-woman/cabaret show "The Whore Next Door." - www.facebook.com/Amorika

Kathy Kaefer has appeared at The Rainbow Room, Feinstein's at the Regency, Birdland (as a cast member of the show Our Sinatra) and at the Metropolitan Room in her own show, Kiss Me Once: Stories from the Home Front. – www.facebook.com/Kathy.Kaefer.5

------------
WINTER RHYTHMS 2019 marks the 11th year that this award-winning (Bistro Award for Outstanding Series and the Ruth Kurtzman Benefit Series MAC Award) festival welcomes noted musical artists to its stage during the holidays. The mission of WINTER RHYTHMS is to bring the talents of well-known and up-and-coming singers, musicians, lyricists and composers to the attention of the New York theater community.

All proceeds support Urban Stages' Outreach Program. Outreach makes art, theater and education accessible to thousands every year. Learn More!