The selected performance is NOT available for sale.
Please Select Tickets
You have selected: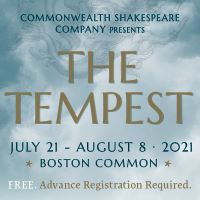 Commonwealth Shakespeare Company
The Tempest
Directed by Steven Maler
Saturday, July 31, 2021
at
8:00PM
Parkman Bandstand
Boston Common
139 Tremont St
We are thrilled to announce the Company's plans to return to live performance this summer with our 25th anniversary production of Free Shakespeare on the Common.
The Tempest, Shakespeare's final play, transports the audience to a mysterious and enchanting island. In this tale of magic, betrayal, revenge, and family, the wise and powerful Prospero struggles to maintain the world he's created as order is thrown off balance by those around him: his curious daughter, Miranda; a man who's just washed ashore, Ferdinand; the half human, half monster, Caliban; two fools, Stephano and Trinculo; and the mystical spirit of the air, Ariel, among many others. With elements of tragedy and comedy, this "brave new world" is a charming escape to revel in under the stars for the 25th production of Free Shakespeare on the Common.
With the safety of our artists, staff, and audiences at the forefront of decision-making, there will be a number of adjustments to this year's offering. The production will be streamlined to allow for an intermission-less performance. In addition, audience size will be limited in accordance with capacity and social distancing guidelines from theatre unions, as well as the city and state. Audience members (over the age of 2) will also be asked and encouraged to wear a mask when not seated. The production will remain free, but due to expected capacity constraints, attendees are asked to register ahead of time for ease of arrival and priority access to seating.
In order to allow us to safely manage your arrival, please select an arrival time from the choices on the right. A limited number of reservations will be allowed in each 15 minute block. Once we have reached capacity for a particular arrival time, it will no longer be available to select. Once all designated arrival times are full, please either select a different performance or add yourself to the waitlist. Audience members on the waitlist will be seated on a first come, first served basis beginning 30 minutes prior the start of the performance. Please note: Due to capacity constraints, we cannot guarantee entry to guests on the waitlist.
Important Information
What are the different reservation types?

Within each arrival time window, you may see two options (based on availability). The most common option is the "Bring your own seat" reservation. We encourage you to bring a blanket or low beach chair. Standard height lawn chairs are allowed in certain areas. Please follow the directions of our staff to locate our high chair areas.



A limited number of low, beach chairs are available for rent every night. The rental cost is $10 each. This rental fee is non-refundable except when a performance is cancelled. To reserve one of these chairs, please select "Rent CSC Chair".



Update (8/2/21): Rental chairs are sold out for all remaining performances.



A chair rental includes a reservation and you can mix and match. For example, if you wanted to reserve for a total of four people and rent chairs for two, you would select two "Bring your own seat" reservations and two "Rent CSC Chair" reservations.



When should I arrive? What happens if I miss my scheduled arrival time?

For the safety of fellow audience members and our staff, please make every effort to arrive within the 15 minute window you selected when you registered.
If you arrive outside of this window, there may be a delay in checking you in.
Beginning 30 minutes before the performance (7:30pm for an 8pm show, 5:30pm for a 6pm show), we will begin seating parties from the waitlist and will no longer be able to guarantee your spot.



What if I have changed my mind and can no longer attend or need to change my reservation?

Please email audienceservices@commshakes.org with as much detail as you can provide and we will assist you. Due to the expected volume of reservations, please allow a few days to receive a response. We cannot guarantee we will be able to honor requests that arrive less than 48 hours before a performance.



What access accommodations do you offer?

Accessible seating areas will be available at all performances.


ASL interpreted performances will be held on August 1st and August 6th.


The performance will be audio described on August 1st and August 8th.


Open captioning will be available on July 31st.


The rain date for these access services is August 8th. In the event that we need to utilize this rain date, please contact audienceservices@commshakes.org and we will be happy to reschedule your reservation.


During the checkout process, we will ask you to identify which services you would like to utilize so that we may best assist you.
If you have any questions or concerns, please email audienceservices@commshakes.org.

What is your rain policy?

Audience and actor safety is our main concern. In cases of heavy rain or lightning storms, we will cancel, but that decision is usually made very close to curtain time. We'll also update the weather daily on our website:https://commshakes.org


If a performance is cancelled for any reason, chair rental fees will be automatically refunded to the same credit card used to reserve them. Please allow 7-10 business days to see that refund.


To select a different performance to attend, please make a new reservation. Due to the expected volume of reservations, we will not be able to reschedule reservations in the event of a cancellation.

Will I receive a ticket?

No. You will receive a confirmation email with an order number. That email will arrive from OvationTix Customer Service, customerservice@ovationtix.com. We are partnering with Suffolk University to handle our reservations this summer, so the subject line will read "Suffolk University Theatre: Order Confirmation".
When you arrive on the Common, please head directly to one of the entry tents and give your name to a staff member. You will then be directed to where you should sit.
For everyone's safety and comfort, please follow the directions of our staff at all times. They will assist in keeping paths clear.

Where can I get more information?