The selected performance is NOT available for sale.
Please Select Tickets
You have selected: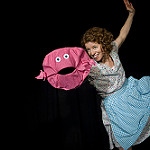 A Season with Friends and Neighbors
Squirrel Stole My Underpants: In Person
by The Gottabees
Saturday, January 26, 2013
at
1:00PM
Puppet Showplace Theater
32 Station Street
Member tickets are only $9.00! To get your discounts, login or become a member here!
Show Description:
Sylvie is sent to the backyard to hang up the laundry. The moment her back is turned, a mischievous squirrel steals her favorite piece of clothing and runs off. When Sylvie gives chase, an entire world emerges from her laundry basket, and curious characters show her the way through mysterious lands. Will our lonely heroine rescue her underpants and discover the magic within herself? This wordless show features imaginative puppetry and live music!
About the Performers:
Puppets! Original music! A Tiny Bit of Acrobatics! Adventure and Invention! The Gottabees started making super fun theater for families in 2013 with the creation of ''Squirrel Stole My Underpants'' and its follow-up, ''Lollipops for Breakfast,'' in 2015. They have since been selling out venues and inspiring homemade puppet shows throughout the US and Canada. They find it deeply satisfying to create original physical theater so families can do something fun together that allows them all to giggle, gasp, sigh, and cheer in 45 minutes or less.
Their shows are often stories told without words—they embrace the physical and the visual in theater. The result is a poetic, non­linear story that surprises audiences. One of the things that makes members of The Gottabees happiest is when they meet children who have seen a show and parents tell them how their child acted out the entire show for weeks after seeing it. This is the core reason why they make theater for young audiences: The Gottabees want children to know in their hearts that they, too, can make theater wherever they are and whomever they are.
For the last 15 years,
Bonnie Duncan
has blended puppetry, dance, and physical theatre in surprising and delightful ways. Her work has been described as ''an artful world of silent dreams, mime, and dance'' (Austin Live Theatre). She has most recently been working as one half of They Gotta Be Secret Agents with Tim Gallagher. Their show, Poste Restante, continues to tour worldwide, and won ''Best Touring Show of 2011,'' Austin, TX; Best of the Fringe, San Francisco, 2009; and a nomination for Most Innovative Show at Prague Fringe Festival 2010. Prior to her work as a Secret Agent, Bonnie was a company member of Snappy Dance Theater for 8 years, performing sculptural, acrobatic dances nationally and internationally. Her movement was called ''breathtakingly simple'' and ''delightfully crafty'' by the Boston Globe. When Bonnie is not performing and teaching, she is the mother of three young children, an avid runner, and vegan cupcake maker.
Brendan Burns
(music) is a guitarist & educator rooted in Somerville, MA. He released his debut album TimeStamp (recorded live at the Somerville Theatre) in 2012. Brendan is a founding member of the music & puppetry troupe: Elephant Tango Ensemble (nominated for an IRNE), former director of the house band for Bent Wit Cabaret and a regular contributor with SchoolTree, Kristen Ford Band, Karin Webb, Molly Zenobia & Brendan Burns' Roadhouse. Brendan holds a Bachelor's Degree from Berklee College of Music and is the guitar department coordinator at Brookline Music School.
Tony Leva
(music) is an educator, improvisor, collaborator and performer. He performs regularly with Bury Me Standing, Jaggery, The Michael Dobiel Quartet and the Junk Kitchen Players. Since 2002 he has been actively studying and performing on the upright bass. He currently teaches bass at the Rockport Community School and is an active collaborator/educator at Tunefoolery, an artist collective of musicians with psychiatric disabilities. Tony also studies the sintir (a North African bass lute) and has occasionally performed on trumpet, melodica, accordion and clown nose.
Recommended for everyone ages 4 and up. Non-verbal silly story with lots of visual surprises. Some suspenseful moments in an imaginary forest, underscored by spooky music.