The selected performance is NOT available for sale.
Please Select Tickets
You have selected: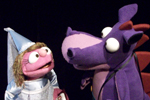 April Vacation Week
The Reluctant Dragon
by All Hands Productions
Wednesday, February 20, 2013
at
1:00PM
Puppet Showplace Theater
32 Station Street
Member tickets are only $10.00! To get your discounts, login or become a member here!
Show Description:
Princess Penelope loves to read about dragons. Imagine her surprise when she actually meets one! When the much-touted dragon slayer Sir Reginald Thwebes arrives in the castle, King Rhubarb calls upon him to fight the fearsome beast. The Princess has to think quickly to save her friend. Will it be a fight to the death? Will it be a draw? Will they even fight at all? Find out in this hilarious performance featuring magnificent moving-mouth puppets, elaborate medieval costumes, and many very creative ways to hide a pet dragon.
About the Performer:
David Stephens is the creator of All Hands Productions, a puppet company that, for over a decade, has been dedicated to developing and presenting quality puppet theater for audiences of all ages. David has toured his seven popular productions to theaters, schools, libraries, and festivals throughout the United States and Canada. His show, 'Billy Goats Gruff and Other Stuff' was awarded the prestigious UNIMA-USA Citation of Excellence in 2005 (the equivalent of an Oscar in the puppetry world).
In addition to creating original works, David has also been a puppeteer for the Jim Henson Company and has been a Muppet performer on 'Sesame Street.' He also performed numerous characters in the live production of Emmet Otter at the Goodspeed Opera House. David is a graduate of Troy University and the University of Connecticut's Puppet Arts program (MA 2001). Originally from Alabama, he now resides in Atlanta, Georgia. In addition his work as a puppeteer, David is also an accomplished banjo player. For more information visit www.allhandsproductions.com andwww.davidstephensbanjo.com
Recommended for everyone ages 4 and up. Lots of humor, some pretend sword fighting.
This show was funded in part by a 2008 Jim Henson Foundation Family Grant.