Please Select Tickets
You have selected: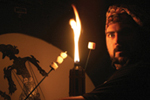 Puppets Around the World
Shadows Around the World
by Nappy's Puppets
Thursday, March 7, 2013
at
10:30AM
Puppet Showplace Theater
32 Station Street
Member tickets are only $8.00! To get your discounts, login or become a member here!
Show Description:
Travel the world with shadows, stories and songs! For thousands of years, people all over the world have loved to perform with puppets, and one of the oldest and most wonderful puppetry styles is shadow puppetry. In this fun and interactive show, you'll meet everyone from elegant Chinese Emperors to the topsy-turvy Turkish trickster Karagoz. Along the way, the hilarious Jim Napolitano will be your guide! Audiences of all ages will enjoy this fun opportunity to explore world cultures and history, learn about traditional storytelling, and witness the exciting journey of shadow puppetry as an art form.

Shadow puppets. Recommended for everyone ages 3 and up.

About the Performer:
Jim Napolitano, a.k.a. ''Uncle Nappy,'' is a Connecticut native and one of America's most-loved shadow puppeteers. He is a graduate of the University of Connecticut's Puppet Arts program, and has taught puppetry to students of all ages throughout New England. For over 20 years Nappy's Puppets has toured nationally to theatres, festivals, libraries, and museums, delighting audiences of all ages with quality shadow theatre productions.
Jim has also worked extensively as a freelance artist and puppeteer. As a member of Bits and Pieces Puppet Theatre he performed musicals with giant puppets across the country and around the world, including at the National Cultural Center in Japan and the National Theatre in Taiwan. His television credits include Between the Lions, The Book of Pooh, and segments for Nickelodeon, Scholastic Home Video, and HBO Pictures. He currently resides in Connecticut and is the proud father of two young children.