Please Select Tickets
You have selected: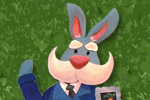 Animal April
The Carrot Salesman
by Brad Shur
Thursday, April 4, 2013
at
10:30AM
at Puppet Showplace Theatre
32 Station Street
US
Member tickets are only $8.00! To get your discounts, login to your account or become a member here!
Show Description:
Join Mr. Bunni, a door-to-door vegetable salesman, as he journeys beneath the earth, into the sea, and even to outer space in search of new customers. Will he ever sell enough carrots to please his boss? Or will his new friends teach him a valuable lesson? This imaginative table-top performance features a live actor, colorful 2D paper puppets, and plenty of audience interaction.
About the Performer:
Brad Shur is a versatile puppeteer who has created and performed characters made of everything from pixels to papier mache. As the Artist in Residence at Puppet Showplace Theatre he performs regularly and teaches puppetry classes to students of all ages, Pre-K to adult. As protégé of master puppeteer Paul Vincent Davis, Shur trained extensively in glove puppetry and currently performs two of Davis' classic shows at venues across New England. "Robin Hood" is Shur's first original glove puppet show. Shur's other original works include "The Carrot Salesman," "Dr. Doohickey and the Monster Machine," "The Yankee Peddler: Stories and Songs from Old New England" and "The Magic Soup and Other Stories," featured at the Puppeteers of America National Festival 2013. Prior to becoming the Artist in Residence at Puppet Showplace, Shur toured the country as a performer with Big Nazo (Rhode Island), Wood & Strings Theatre (Tennessee) and The PuppeTree (Vermont). As a builder Shur has designed and fabricated puppets for American Idol, Dollywood, Avenue Q, and the U.S.S. Constitution Museum. He is a graduate of the Rhode Island School of Design.
Mainstage performances are recommended for ages 3 & up. For more detailed recommendations, consult with Box Office Staff.