The selected performance is NOT available for sale.
Please Select Tickets
You have selected: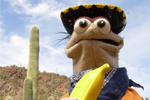 Stories in Bloom!
The Legend of the Banana Kid
by Frogtown Mountain Puppeteers
Sunday, April 21, 2013
at
3:00PM
Puppet Showplace Theater
32 Station Street
Member tickets are only $8.00! To get your discounts, login or become a member here!
Show Description:
Little Chucky loves to watch TV Westerns. One day, he meets a mysterious cowboy who takes him to a remote town that is being harassed by a seedy group of outlaws. Chucky, pretending to be a local hero, rides into town on his trusty goat, outsmarts the bad guys, and brings justice back to the people... using bananas as his weapon of choice! Three puppeteers and over a dozen handmade puppet characters will have you cheering on the little guy in this hilarious adventure tale!
Mouth and Rod Puppets. Recommended for all ages 4 and up.
About the Performers:
Frogtown Mountain Puppeteers, founded in 2000, is a puppetry troupe based in Bar Harbor, Maine, and comprised of three siblings - Erik and Brian Torbeck and Robin (Torbeck) Erlandsen. The traveling trio has performed their original productions at fairs, festivals, theatres, schools, libraries, and some of the finest petting zoos across the United States and Canada. They write and create all the shows they perform and have received three Citations of Excellence from UNIMA-USA, the highest national award in puppetry. In addition to 'The Legend of the Banana Kid,' their repertoire includes 'Everybody Loves Pirates' and 'The Headless Horseman of Sleepy Hollow.'
Funded in part by the NEST program of NEFA, made possible with funding from the NEA Regional Touring Program and the 6 New England state arts agencies.