The selected performance is NOT available for sale.
Please Select Tickets
You have selected: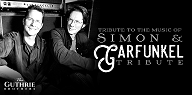 Sun Events presents
Scarborough Fair: A Simon & Garfunkel Experience
Performed by The Guthrie Brothers
Tuesday, March 27, 2018
at
7:30PM
LPAC
3800 NW 11th Place
Patrons with Balcony tickets please come to the Box Office. Per the promoter the balcony will be closed. Thank you.
Jeb and Jock Guthrie knew the first time they played a Simon and Garfunkel song that their voices blended effortlessly into that S & G signature sound; and the overwhelming audience reaction to their performances confirmed their feelings. Audiences will enjoy favorites such as Sound of Silence, Homeward Bound, I Am a Rock, Mrs. Robinson, Bridge Over Troubled Water, Scarborough Fair and many more! Since they were little kids, the brothers have been playing and singing together in one way or another. They share just about everything, and a lot of that everything is music. In the early days, their music motors were fueled by the jukebox mix they heard in the restaurants, and the tunes played on their local and beloved WDUZ. 'DUZ was the cool station in town and played pretty much every kind of music: Zeppelin, Beatles, Santana, oldies, Motown, country and even swing and doo-wop made it to the playlist. Jock has always been the guitar master, and Jeb the drummer dude. Many bands, among them the heavy-but-doomed Woeful Existence, the harmonious Antique Shoppe, the jazzy, horn-a-plenty Community, the sometimes psychedelic-jam band Steak Nite, and the almost famous On The Edge featured the two of them in this format. Sometime during what they call the middle period, Jeb began to play the guitar. Having a built-in teacher at arm's length--Jock--helped make the transition seamless (if somewhat painful for Jock). The same period found them coming to the conclusion that brotherhood was not something to hide, but rather, to feature. The two of them were always singing in bands, yet they had never really featured their natural sibling vocal blend. The combination of two guitars, two vocals and two brothers was an idea whose time had come. At last, the obstacles to success began to disappear. They headed east and picked up a publishing deal on the way. They finally made it to New York City, after a successful five-year band and van tour of the Northeast's premier beer venues. After a stint with the excellent, but ill-fated, On The Edge, they struck out on their own as The Guthrie Brothers and soon landed their big record deal. Their journey continues March 26, 2018 as they present their tribute to the music of Simon & Garfunkel titled, "Scarborough Fair".